July was both more productive and less productive than I expected. lol.
Hexie Blocks. I didn't get 2 done, but I did get 1 done! And I'm figuring that when school pick up starts again I'll be able to get loads done on my English Paper Piecing. Fingers crossed!
Pinwheels. I didn't even look at these this month. Whoops.
Scrapping. Nada.
Project Life. Also nada.
Bee Yourself. I actually got a lot done this month! I got 3 more blocks done, plus I made some real progress on the flags! I actually have the entire bottom (5th) row assembled now and I'm hoping to get the 4th row assembled this week. Just need to finish 2 more flags. 🙂
Stickers. Designing them has been put on hold for a bit, but I have some ideas!
Art Room. I got the corner cleaned! Still loads to go, but it feels great to be making progress.
Adventure Time. We didn't get any day trips done, but we did discover some public pools that are both not crowded and open in the morning! So lots of swimming going on. 🙂
School prep. I think we're good? I mean, I'm on the verge of a nervous breakdown daily, but I think I have all of the "stuff" together.
Master Bathroom Closet. Nothing on this front, but we did a total clean out of our master bedroom and closet! We literally pulled everything out so we could paint and it feels amazing!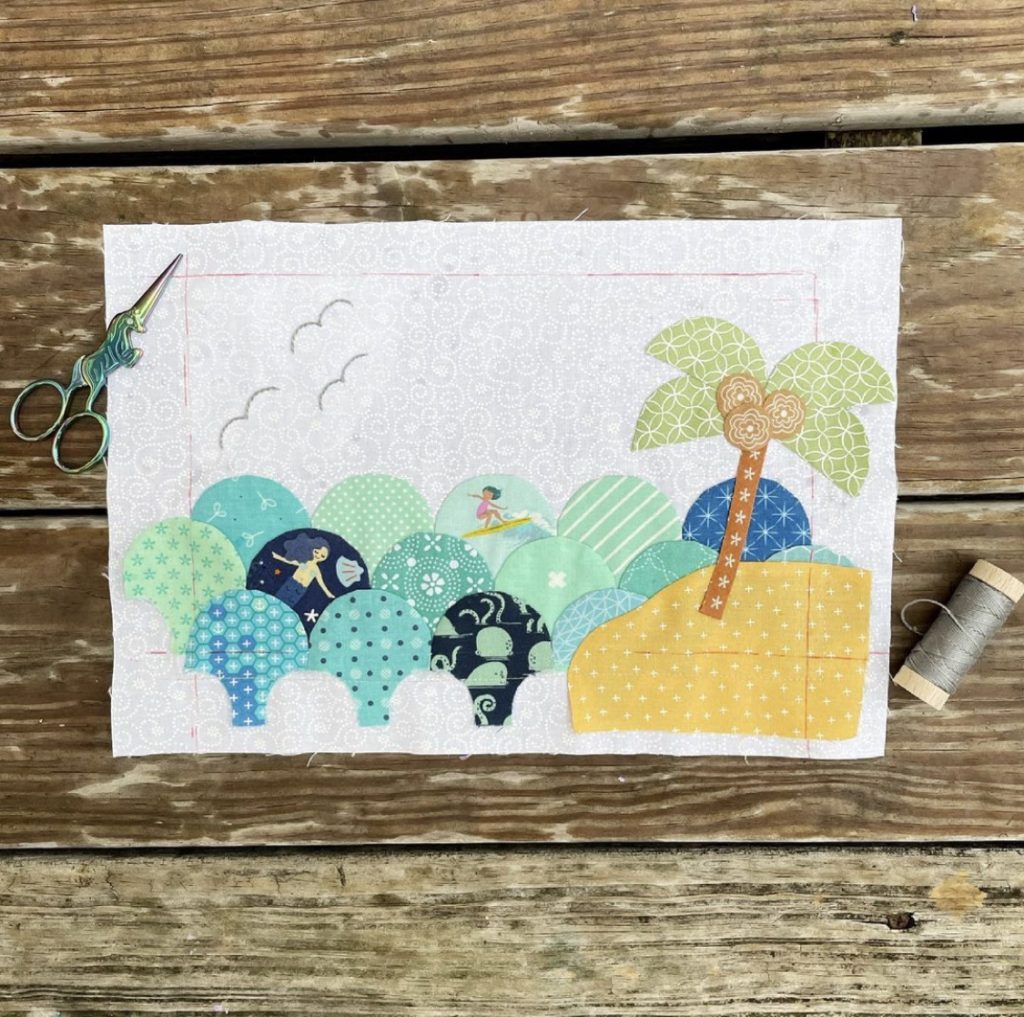 So August… Unless I have a massive freak out in the next week (totally possible) the kids start school on Tuesday.
Hexie Blocks. I'd like to get one done.
Ice Cream Soda Blocks. I've gotten some fun new fabric so I'd love to prep another round of blocks!
Organize. In a bit of a "If You Give a Mouse a Cookie" moment, painting the master bedroom has turned into a massive project which will eventually include new floors in the 3 small bedrooms (the only rooms in the house that still have nasty carpet), repainting the 3 small bedrooms, a massive clean out of Kate's room, switching the art room and the twin's room with a massive clean out of both, and new big kids furniture for the twins. Why yes, we are insane. Most of the big things will be happening in March or April, but I want to start the purging now so that we have less items to deal with when it comes time to empty all 3 small bedrooms into our living room so that we can paint/ do floors. As for a quantifiable goal, I think maybe 2 big trashbags and/ or donation boxes out of the art room.
Pinwheels. Did I mention that the twins are getting a new room makeover this spring? lol. The pressure is on to finish their quilts! Pinwheels must be finished this month.
Bee Yourself. I want to finish the flags and get the 4th row assembled. Then maybe 2 other blocks?
Project Life. I fell behind (again), but once school starts I want to prioritize getting the previous week's layout done each Monday. And then maybe 1 other spread each week? So that would look like 6 layouts? We'll see. lol.
Scrapping. Oh boy. I'm giving myself August to see if I actually want to get back to scrapping and then I'm going to give serious consideration to ditching scrapping all together and just focusing on Project Life and quilting. I'm not *quite* ready yet though. So lets see… Maybe I should focus on some layouts from this summer… Let's say 10 layouts just to get myself going again. Then if that goes well, I'll come up with some kind of catch up plan in September. At any rate, I'm thinking that I'm switching to a single album for each year instead of 2. I'm also considering doing away with the calendar layouts… Not sure if I can bring myself to do that or not. lol.
Back to School Interviews. I want to do our annual back to school interviews and pictures. 🙂 Bonus points if I actually get the last few rounds of pictures printed and put in the interview books!
Windchime Quilt. It's been a while since I've worked on this, but I want to finish the 12th block.
Monthly Kid Adventure. Admitidly, I'm cheating a bit here because we actually went to a McKenny Falls State Park yesterday, but I'd love to do 2 adventures this month. 🙂