Oh boy. We're leaving on June 25th, so now that it's June 1st things are starting to feel real. We're starting to have the "lasts" and saying goodbye. Last day of school. Last time at camp. Last time to see friends. (But we're really hoping all y'all will come visit us!) Let's take a look at the May goals.
Scrap October, November, December 2019. Sadly, only October got done. And now the majority of my scrapping stuff is packed up. But, I feel good about getting another month done.
Road Trip Plans. Well, I think we have a route and we do have an Air BnB booked for the 2 weeks we'll be in Maine. I don't have any organized activities for the kids, but I did make some clipboards that I think are going to work well. Maybe I'll do a separate blog post about them later?
Teacher Gifts. Ugh. This didn't happen at all and I feel super shitty about it.
Heart Quilt. I'm about 3/4 of the way done with stabalizing it.
Color Wheel Quilt. I have the center quilted with some straight line quilting, but I want to do some stippling around the edges where the applique is. I need to finish the hearts and then I'll change out the sewing machine foot and I should be able to wrap up the color wheel quilt pretty quickly. Which is good because it's a gift for a friend and we're leaving in 3 weeks. EEEPPPP!!!
Scrap Goal. Honestly, I didn't even look at this.
Passports. Done! I mean, they're not back yet, but we sent off all of the information and had our appointment. 🙂
Edit Photos. They came out so cute! And most importantly, the graduate AND the family were happy with them. 🙂
Crafty Plan. I think my crafts are going to be the bucilla kits and my hexagons. I've managed to misplace my advent calendar bin though so hopefully it turns up as we're packing!
Ice Cream Soda. I wanted to prep a bunch of blocks, but it just didn't happen and I'm trying to be ok with that. I think I'll end up with plenty to work on with the stockings and if not, I guess I'll be forced to buy a bunch of fabric and start a new project! lol
Not in the list, but I did make a big breakthrough on the hexagon quilt! I figured out how I want to bind it and I did a teeny test section. I absolutely love how it's turning out.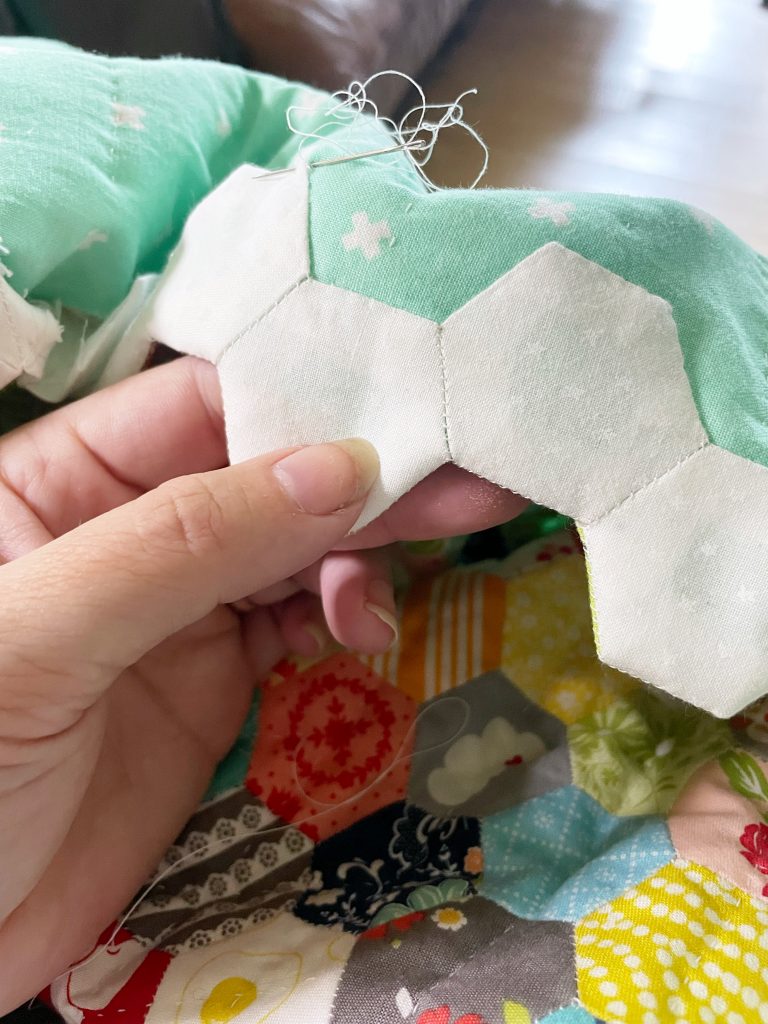 Now for some June goals.
Pack all the things.
Load pod.
Road trip hotels.
Road trip activities.
Clean all the things.
Find a house to rent.
Find schools.
Explore New England.
Fall in love with New England.
Adventure! 🙂