I would love to say that I've been super productive while Michael's been out of town, but I would be lying.  🙂  I did manage to get one layout done tonight after Raptor went to bed, but I had to cut the scrapping short since I'm running out of cardstock.  That and the fact that the battery died on my laptop which was really cutting into my trashy TV viewing.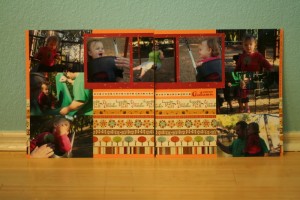 I was so in love with this paper last fall.  Of course last fall I was scrapping summer pics and couldn't use it.  Now I really want to start scrapping spring stuff, but I hate being so far behind in Kate's book.  It's a vicious cycle!  I guess I'll just have to pick up the pace Seriously though, I still think this line is really cute.  This is a pretty simple layout, I just layered the patterned paper.  Most of the photos are still 4×6, but I cut the ones in the center down to 4×4.  I even ::gasp:: cut one photo in half.
I use post bound albums so the photos still line up pretty well.  I can totally see the appeal of 3 ring binders, but I like 2 page layouts too much to make the switch.  I do make it a policy never to cut a person's face in half though.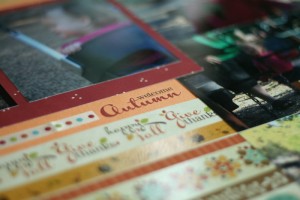 I love the matching ribbon and rubons.