So I decided to start my Project Life project yesterday.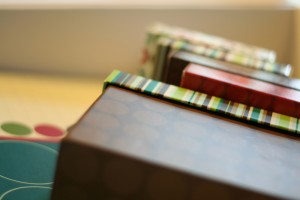 That really means that I started it today, I just used pictures and a story from yesterday.  Good thing Kate loves stickers so much.  We sat down and had some quality mama/ baby scrapbooking time.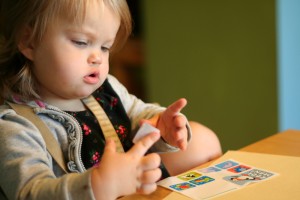 Here's my sticker tip.  Now maybe this seems painfully obvious to everyone else, but I had a eureka moment over here when it finally occurred to me.  Peel the background of the sticker sheet off and throw it away.
Kate demands to do everything by herself and stickers are no exception.  She would get really frustrated though when she couldn't get the sticker off and needed my help.  I'm not going to lie, it was frustrating for this mama too.  It's hard to get any scrapping done when Kate is demanding a new sticker every 2 seconds.  We worked this system out while I was working on my December Daily album.  It's awesome.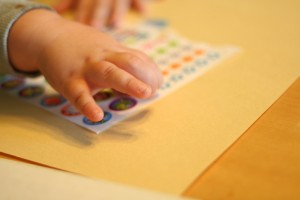 Now, moving on to the actual content of this post.  🙂  So I realize that I'm only one day in, but I am *so* in love with this kit!  I could easily have just stuck in a 4×6 photo and a journaling card, but I decided to jazz it up a bit.  We went out to dinner last night and Michael took a few pictures on his iPhone using the hipstomatic app.  Love the filters!  Only problem is that they are 4×4 not 4×6.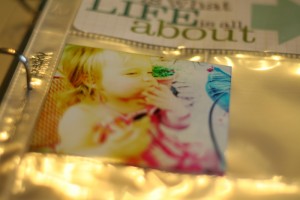 No worries.  The kit includes some extra patterned paper.  Add a bit of ribbon and a metal embellishment that has been looking for a good home for years and I'm calling it good!
I used one of the bifold journaling cards so I could write a bit more since it's my first day.  Added a few of the included arrow stickers and used the date stamp.  Man this stamp is crisp.  Almost makes me want to go back to rubber stamps.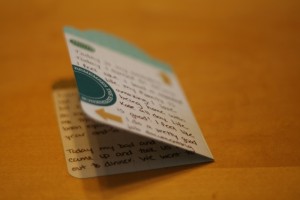 And yes, I realize that it's folded backwards.  The cards are double sided and I liked this side best even though it's supposed to be the interior part.  Don't judge me.  🙂  Then I trimmed down a picture of Kate from dinner and included it in one of the small spots for journalling cards.  Here's the completed "day."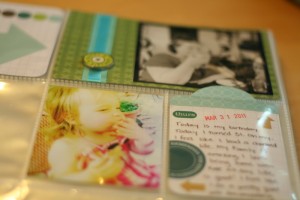 I'm thinking I might have one post a week dedicated to the previous week's layout.  Thoughts?