We made it through November! And even though I missed posting a few days on Instagram, I actually crafted every single day so I'm counting #NaNoCraftMo2019 as a success. 🙂 Let's look at how I did in November.
1.Christmas Half Square Triangles. Done! I toyed with the idea of getting this quilted and bound before the end of the month, but I quickly realized that was an insane idea. But I did get the entire top finished, and I've got the fabric for the backing, so once the holiday craziness calms down I'll get back to it. I probably spent as much time with the seam ripper as I did the sewing machine, but I'm super happy with the end result. I just love love love this Bonnie and Camille Christmas fabric!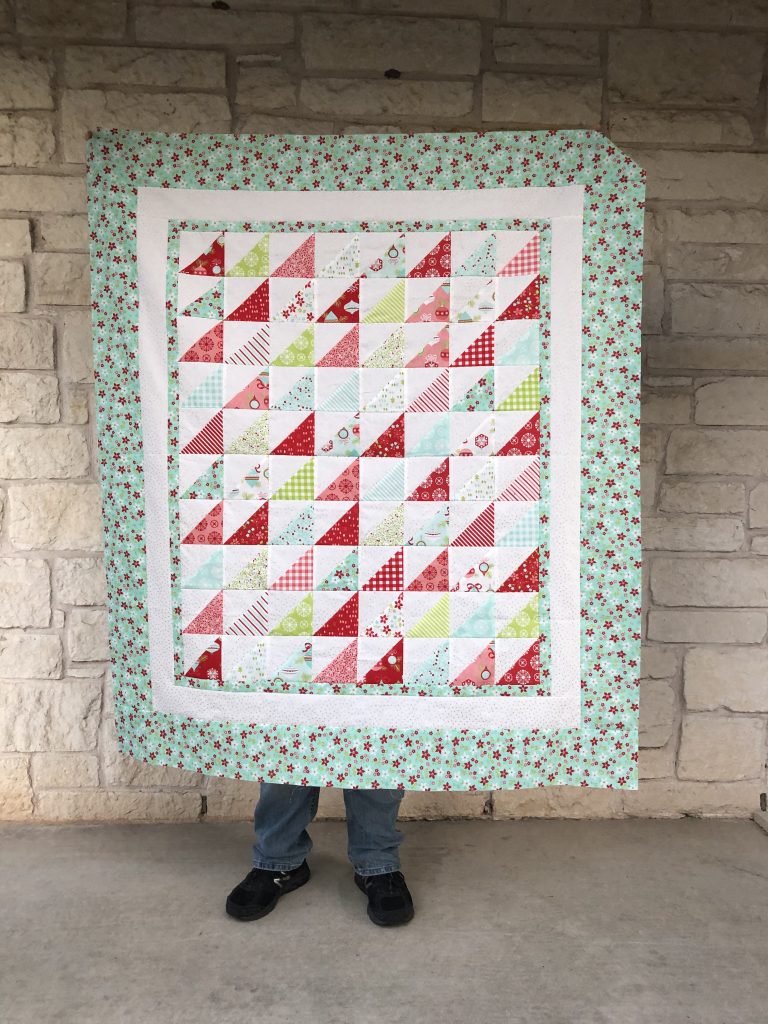 2. Kaffe Quilt. I finished my blocks! My grandmother is still working on her blocks, but she had way more to do than me. lol. Once we get it done, I'll try to take some pics for the blog. 🙂
3. Zipper Pouch. Well, I forgot to add the handle, but I'm pretty pleased nonetheless. Our exchange is on Tuesday and I'm anxious to see how it's received!
4. Advent Calendar. You guys. I have come to the realization that there is no way I am going to finish this in time for Christmas. Now sure, I could stitch my fingers to the bone trying, but I wouldn't really enjoy it, and you know what? This is a hobby! So I am quite pleased with the significant progress that I did make, and I'm going to pack it away for a while.
5. Project Life. Well, I got 1 layout done. :/
6. Scrapping. Not much better, but I did get 6 pages done. I'm really hoping that December Daily reignites my scrappy mojo!
7. Gratitude Tree. This was a great idea, but it didn't work out as I envisioned it this year. But, we got through about 7 days and it was a great proof of concept! And you know what? Next year when the babies are a year older, I bet this is awesome!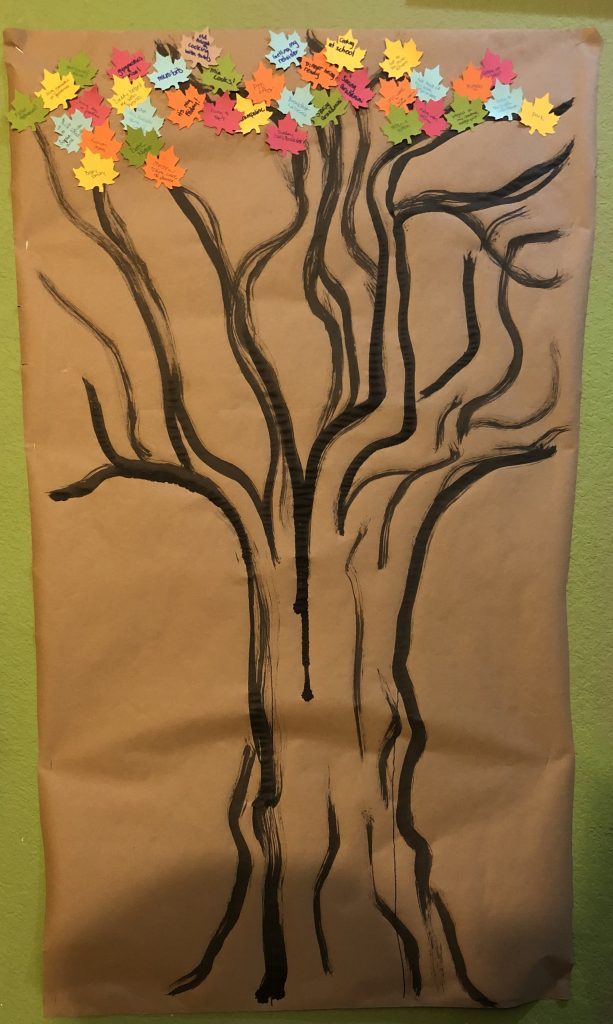 8. Thanksgiving Baking. Huge success! We made 2 day Chocolate Chip Cookies and white chocolate covered popcorn for Thanksgiving Eve. Then between 2 dinners for actual Thanksgiving, we made: a double batch of oreo truffles, 2 pumpkin pies, 2 lemon merengue pies, 1 cherry pie (I make all of my own pie crust), a gluten free cheesecake, a double batch of mac n cheese, and broccoli cheese rice casserole. Man, I'm tired just typing that! But I seriously love baking and seeing other people enjoy things that I make so I tend to go a but overboard. lol.
9. December Daily Prep. I actually didn't do any prep aside from ordering some more photo paper, but you know what? Still a win! And I've already done the spread for Day 1! On day 1!
10. Secret Sewing. I'm making excellent progress! 2 of the 3 projects are completed, and I'm very close to completing the 3rd. 🙂
Time for December Goals!
December Daily. I don't know that it is actually possible, but I would love to finish this in December. I'm keeping it really small, 4×4, so I think it's theoretically possible? We'll see. lol.
Secret Sewing. One final project to go!
Texas Forever Quilt. I want to finish appliqueing (why does that look like it is spelled so wrong?) all of the bluebonnets. I have everything prepped and I have 2 1/2 of the 6 done.
Advent Activities. I have the month all mapped out, I just need to execute it. lol.
Buy all the things. Oh my gosh, we haven't even started shopping.
Wrap all the things. I need to find this year's wrapping paper!
Decorate. I was going to do this today, but I just didn't happen. I did dig out a purple candle though, so at least we had part of an advent wreath for dinner.
It wasn't on my list last month, but I actually made a ton of progress on the butterfly and caterpillar quilts! This month, I'd like to keep making progress on the applique and also knock out some more 9 patches.
Montessori Trays. Since the kids will be off of school for a few weeks, I really want to have some new trays in place! I'm thinking Christmas themed. And I need to do them sooner rather than later. lol.
Windchime Quilt. I'd love to prep the next block! I've now got 3 done and they make me so happy to look at on my wall. 🙂