First project done!  I wanted to start off the year with my January Montessori trays ready to go and I got them done just in the nick of time.  I had forgotten how much fun I use to have making these.  🙂  I managed to repurpose some stuff from a long ago I is for Ice unit I developed for Kate and them added some new matching activities I found on Pinterest.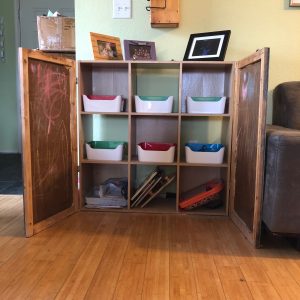 For those of you who haven't seen this before, here's my set up for Montessori trays.  RaptorDad made me doors for this cabinet years ago so we can keep this closed off.  Of course, the twins have figured out the latches, lol, so they have free access.  I used to try to do 9 trays at a time, but I'm simplifying y'all!  So I did 6 this month.  We'll see if I can keep it up.  lol.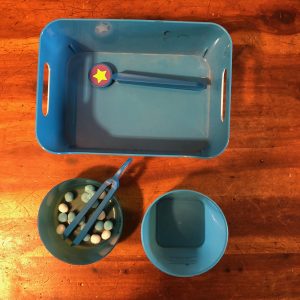 The first tray is some simple transfer work with some tongs and pompoms.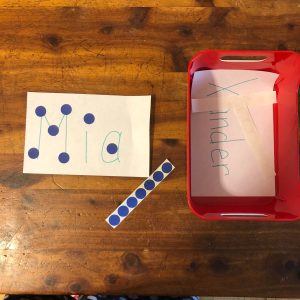 Mia got a new magnadoodle from Santa and yesterday RaptorDad was writing her name on it when she drew circles on the vertices of the M.  I figured this was something they were working on at school so I found some stickers and wrote her name to see what she would do.  She was thrilled!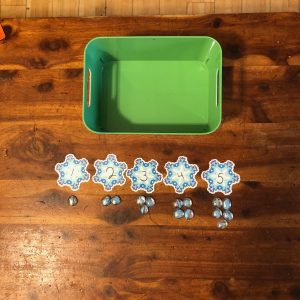 Next up is some classic Montessori counting work.  Since this is the first time they'll seen this work (and since I don't have to be constantly looking for a ton of little marbles) I only went up to 5 instead of 10.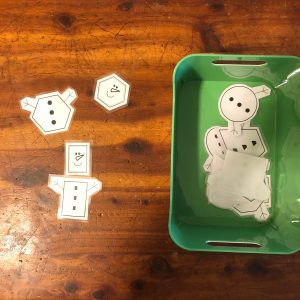 How cute are these snowmen!  They're a free shape matching printable that I found on Pinterest.  I just printed and laminated them.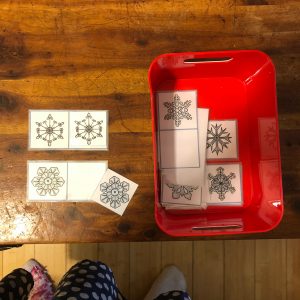 Another cute free printable!  This one is for matching snowflakes.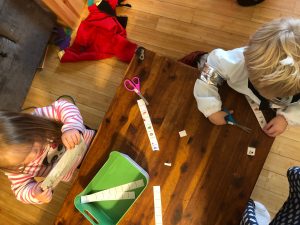 Last one!  This one was a big hit.  🙂  I took stripes of paper and drew cut lines on them.  Then the babies put a sticker in each square before cutting them apart.  A bit messier than I usually like these trays, but we're working on scissor skills right now.  🙂