It's party day!  (Which means that I'm writing this on Sunday while frantically cleaning my house so that my new friends don't think I'm a slob.  lol.)  I'll try to write a post with party pictures later this week, but I couldn't resist a quick sneak peak.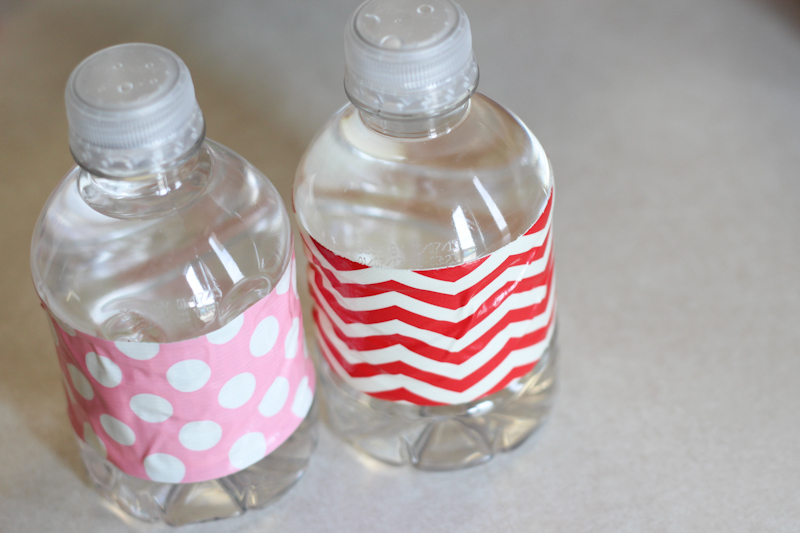 We never use plastic water bottles because I'm way too much of a hippy for that, but I do make exceptions for parties.  They're just so darn convenient!  That and you can cover the labels with cute patterned duct tape.
I also thought it might be time to revisit the February goals since we're now halfway through the month.  🙂
1.  Finish April and May layouts.  This one is dependent upon me actually getting my pictures back from the printers which would involve me ordering them…  See number 4.  April is done!  However, I've done basically nothing for May…  I need to get on that.
2.  Finish December Daily.  I've done 2 more days bringing the grand total to 20.  Only 5 to go.  It's so close I can taste it!
3.  Sort and select phone pics for September, October, November, December and January Project Life.  I like to do the phone pics first and then see where I need a DSLR pic to fill in after.  The majority of my Project Life is phone photos.  Done!!!
4.  Order these dang pictures!  Done!!!
5.  Design and make Valentine's for Kate.  Done!!!
6.  Finish up projects for Kate's Valentine's Day party.  I didn't finish all of the Valentine's Day projects I was hoping to, but the party ones are finished at least.
7.  Rebuild my blog buffer.  Well, I'm one ahead which is a start.  I need to get some more stuff done!
All in all, I'm feeling pretty good about where I stand.  I do need to get on the scrapping though.