I'm working on a felt advent calendar (and by that I mean that I've opened the kit and cut out the first piece) but by mid-November it became abundantly clear that there was no way it would be finished by December 1st.  Maybe by December 1st of 2014.  lol.  Time for plan B.  By which I mean Pinterest.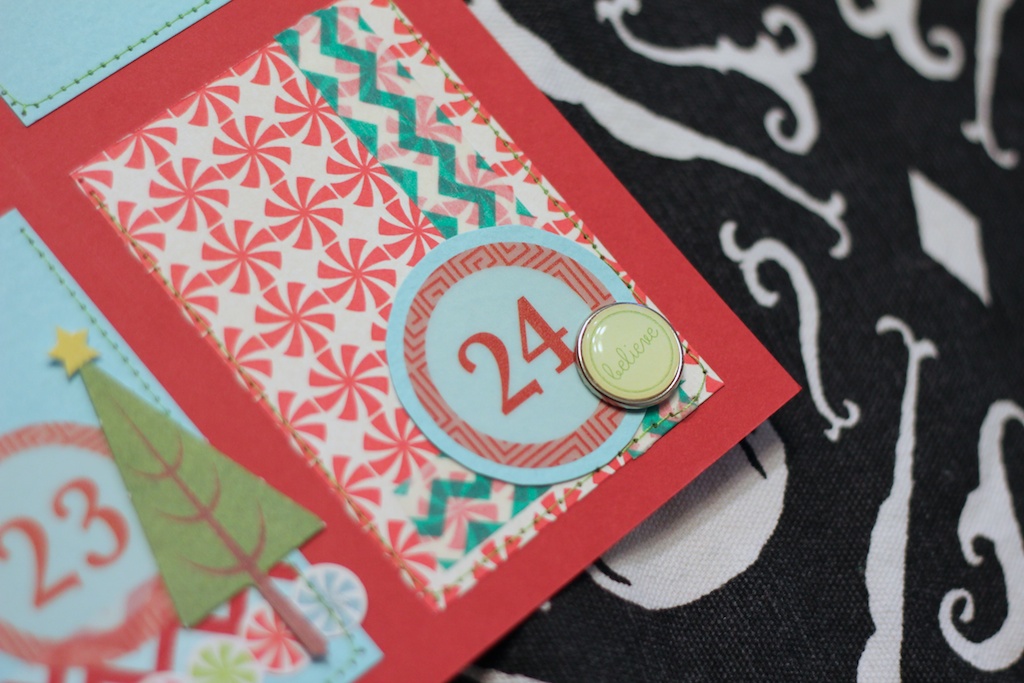 I had already gathered all of my Christmas paper prepping for December Daily so I sorted through them and pulled out the last few sheets from last year's My Mind's Eye 12 Days of Christmas.  I wish I had bought more of it last year!  It's my favorite Christmas line ever.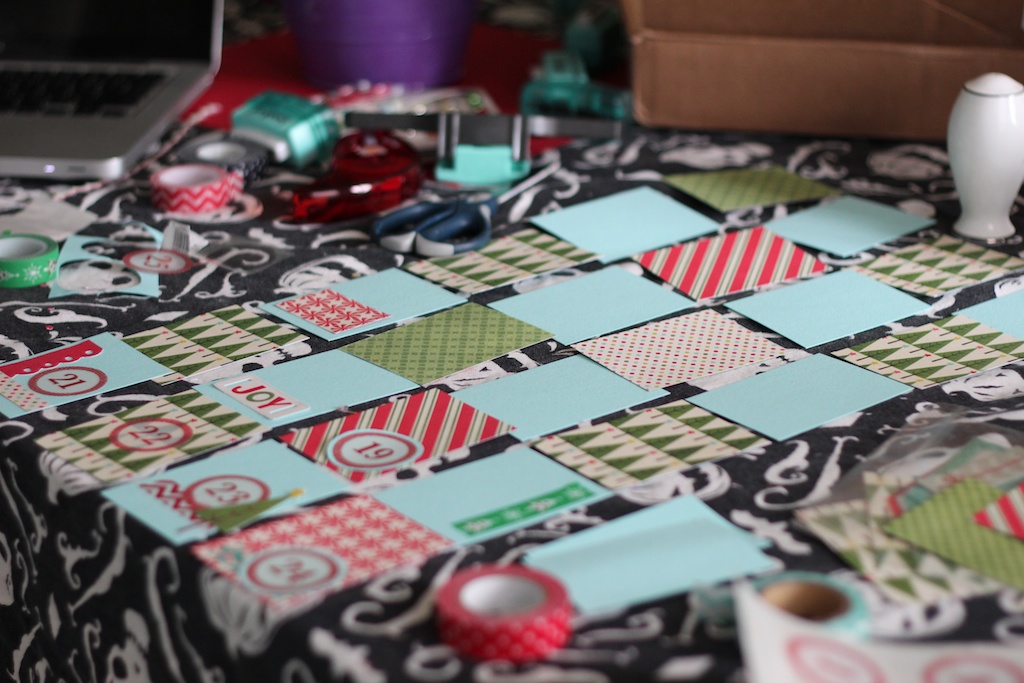 The first thing I did was to cut the paper bases for the pockets.  I knew that I wanted to use 2 12×12 sheets of cardstock as the base, so I made the pockets 2 1/2 x 3 1/2.  I spread them out on the table until I was happy with the randomness and started embellishing them.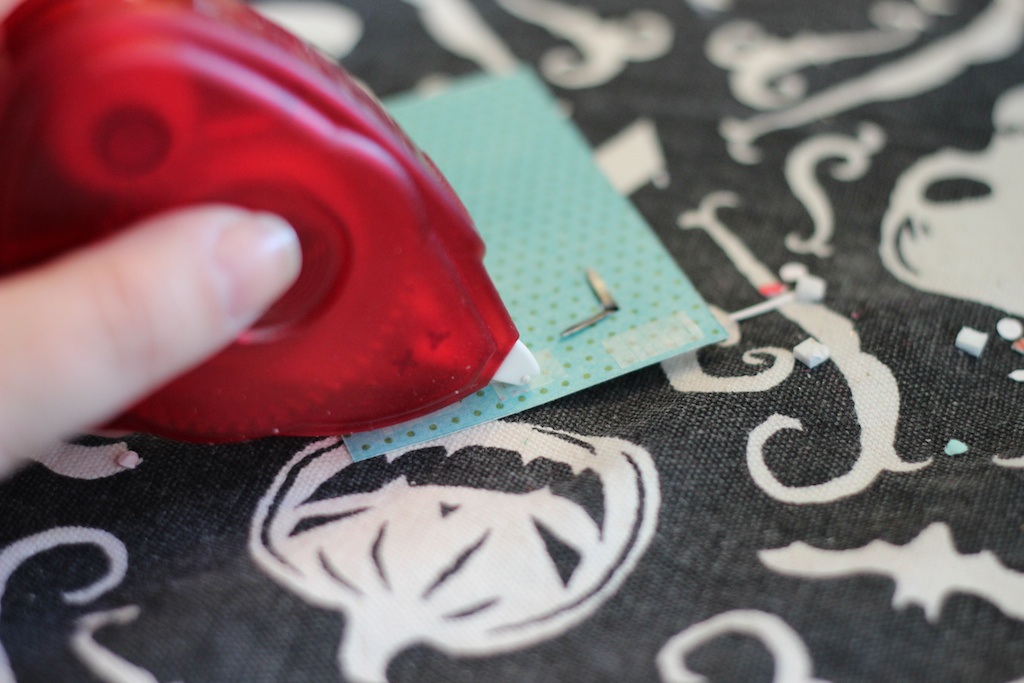 I knew that I wanted to stitch the pockets down, so I just put a little bit of tape on the bottom edge to hold them in place.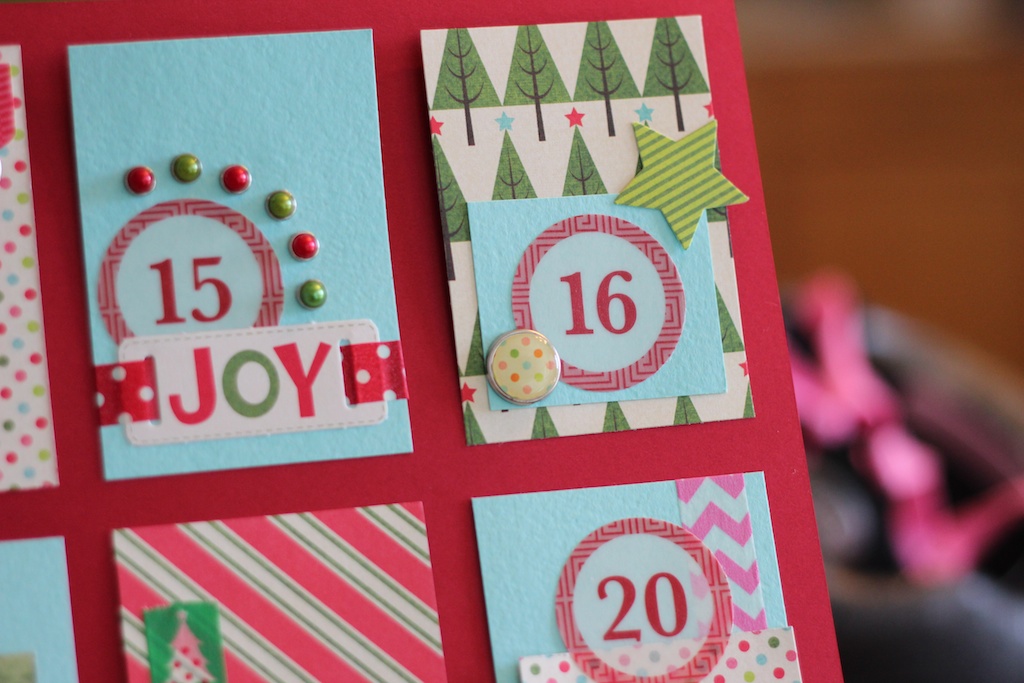 Here they are ready to be stitched.  The numbers are from this year's Crate Paper.  They're vellum so I ran them through my xyron.  (I have an older version of this.)
I stitched it with some green thread and whenever I came to a brad, I lifted the foot up and guided the paper through by hand.  In retrospect, I might have left the brads off but they're just so cute!
I decided to have a few of the pieces on top of the stitched line so I added them last.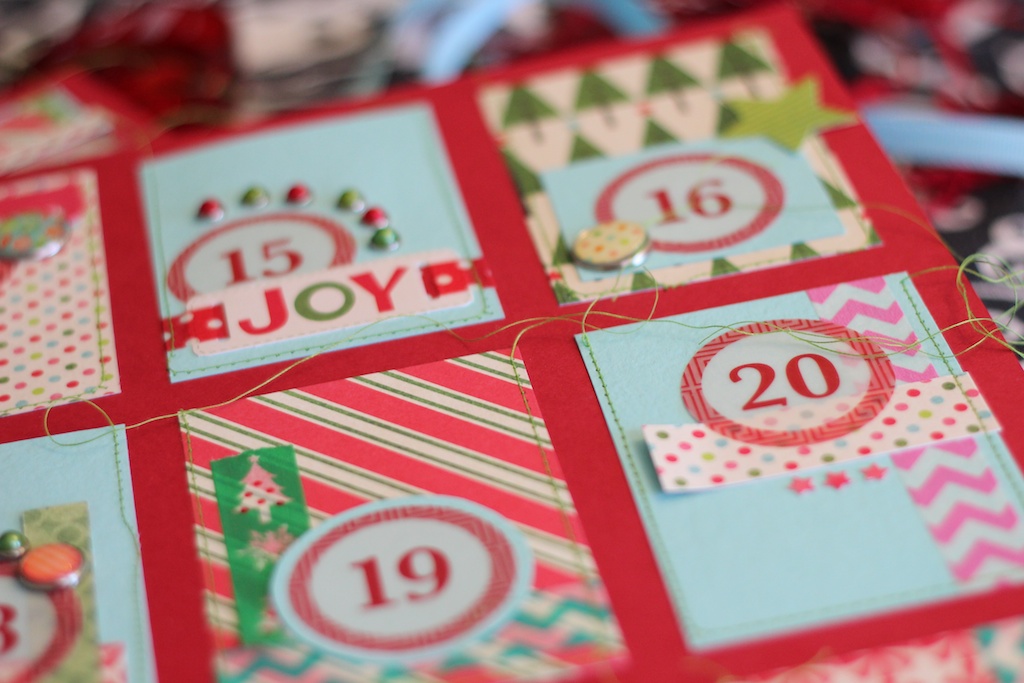 Now I was left with all of the strings on top of the paper.  No worries.  If you pull on the piece of thread that's left on the back the piece from the top will come through so both pieces are on the back.
I put a bit of tape over the thread to keep it from unraveling and then I covered the whole back with some cheap construction paper.  Oh, and I taped some ribbon to the back to hang it up.
Here it is!  I really happy with how it turned out.  🙂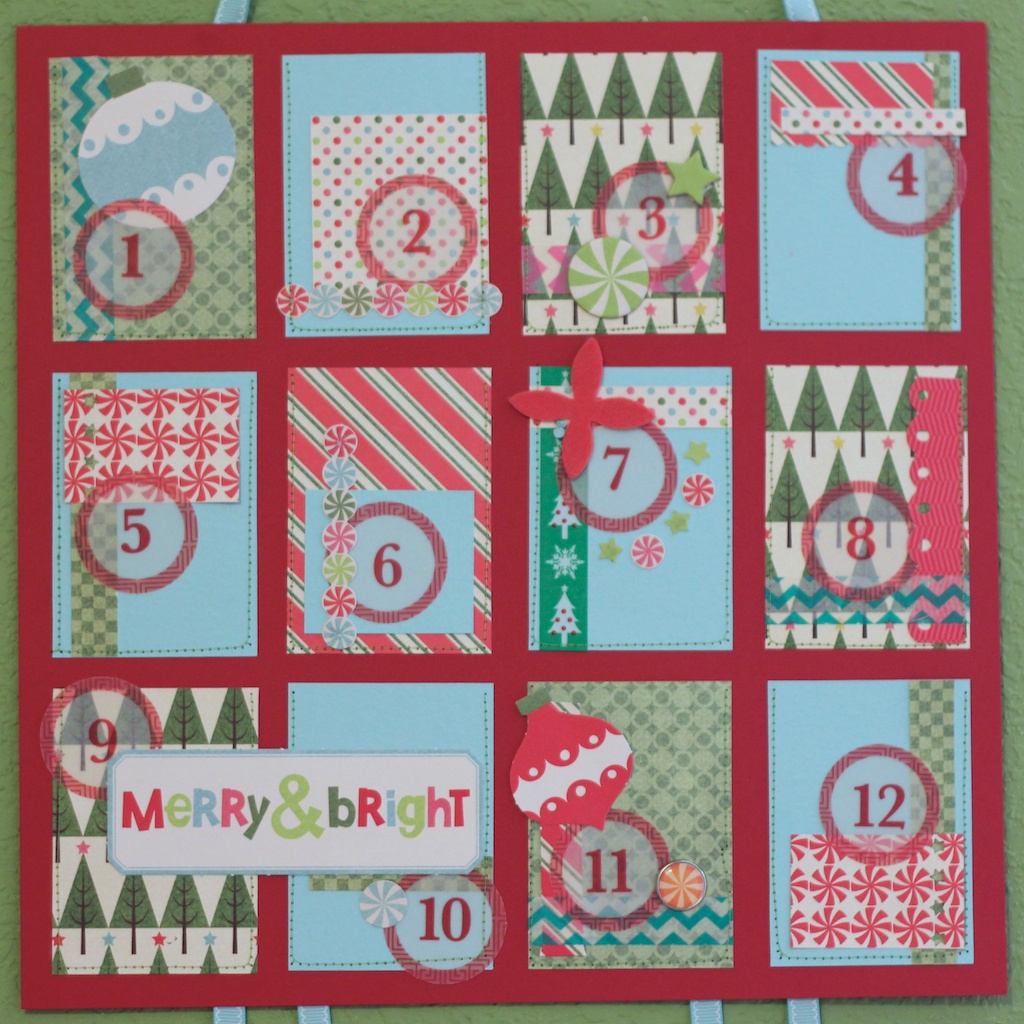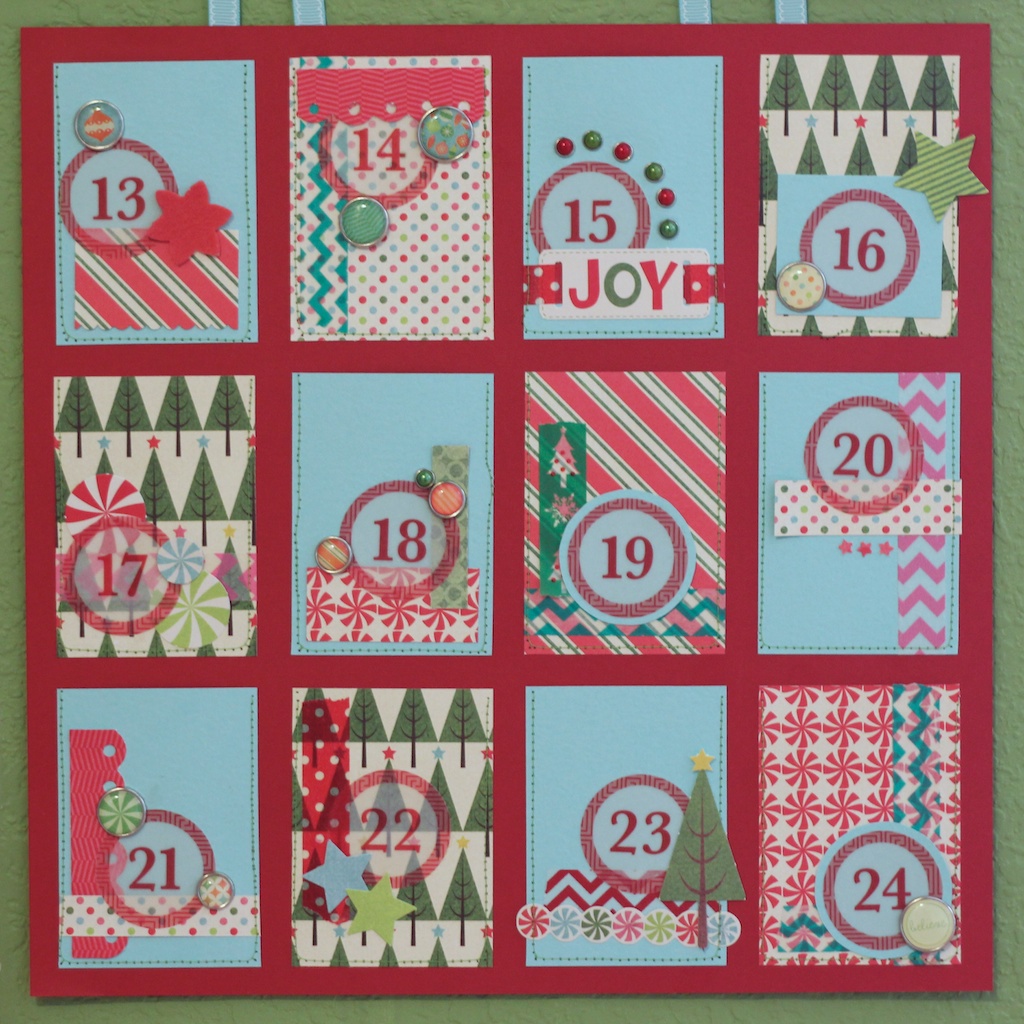 The plan is to put a piece of paper in each pocket with an activity for us to do as a family.  Luckily Kate can't read (much) yet so I only have to be one day ahead of her.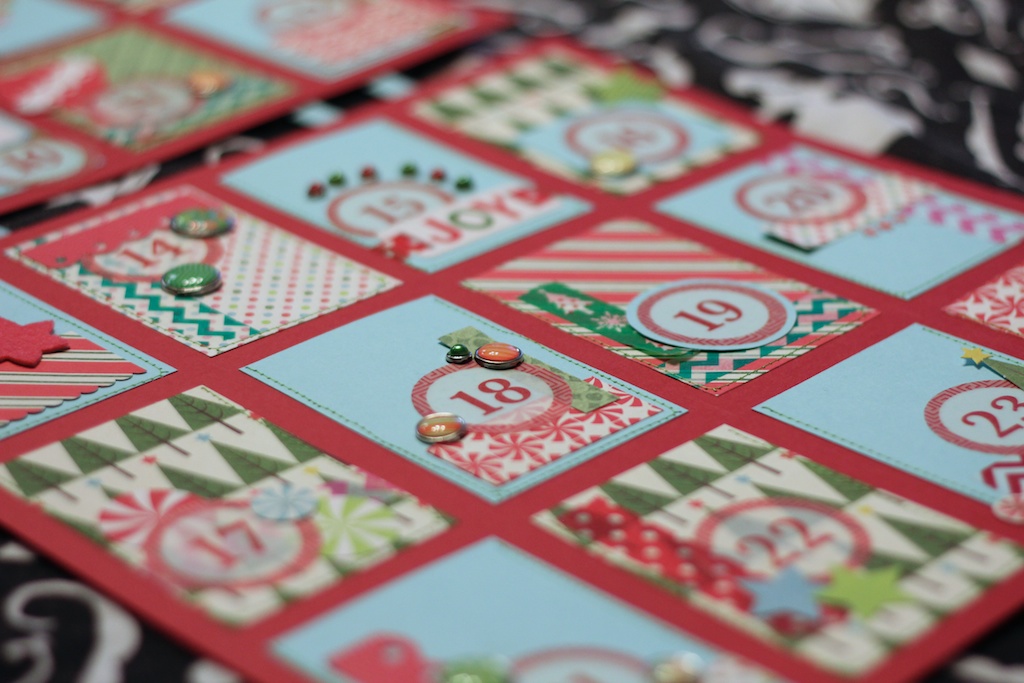 ETA: Squee!  This post was featured at True Aim Education! Go check it (and all of the other awesomeness) out at True Aim Education.