I bought some fabric, oh about 2 years ago, with the intention of making splat mats.  Let's just say that that never happened.  Fast forward to this week and we met up with some friends at the park.  As we sat down on my friends blanket, I thought to myself (as I have a thousand times before) I need a picnic blanket of my own.  I was thinking about all of the blankets that we own and which might be suitable when I remembered this forgotten fabric.  It would be perfect!  It's super lightweight, folds down small and it's not fuzzy so grass won't stick to it.  Brilliant.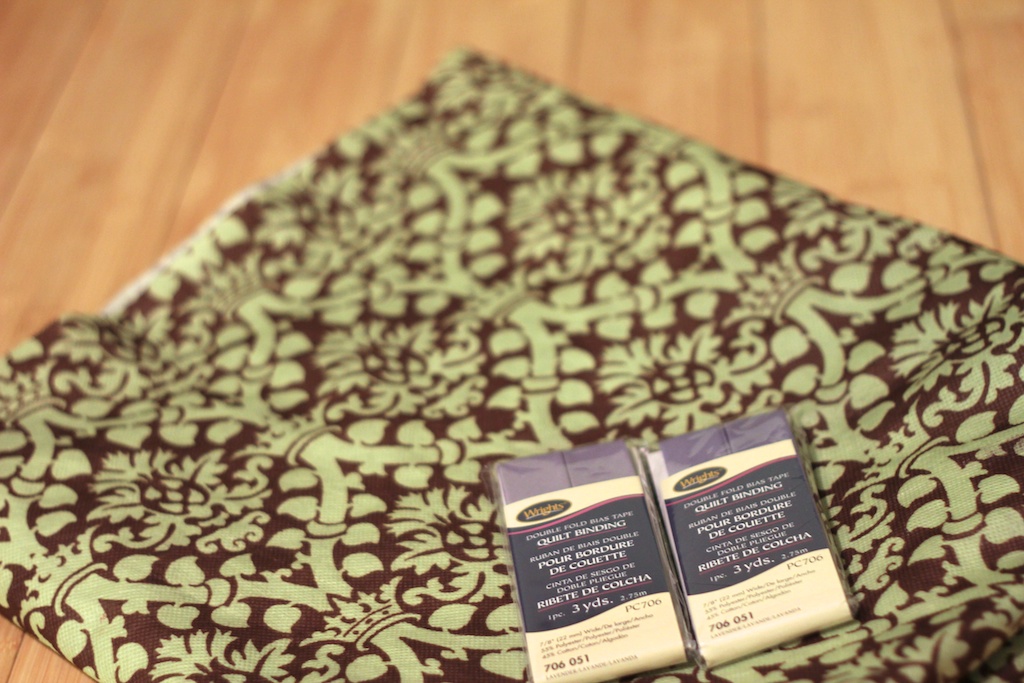 I looked for this fabric online so I could link to it, but it's super old.  I'm not really sure how to describe it.  It's kind of stiff and papery/ plasticy?  Regardless, it's very thin which suits me perfectly.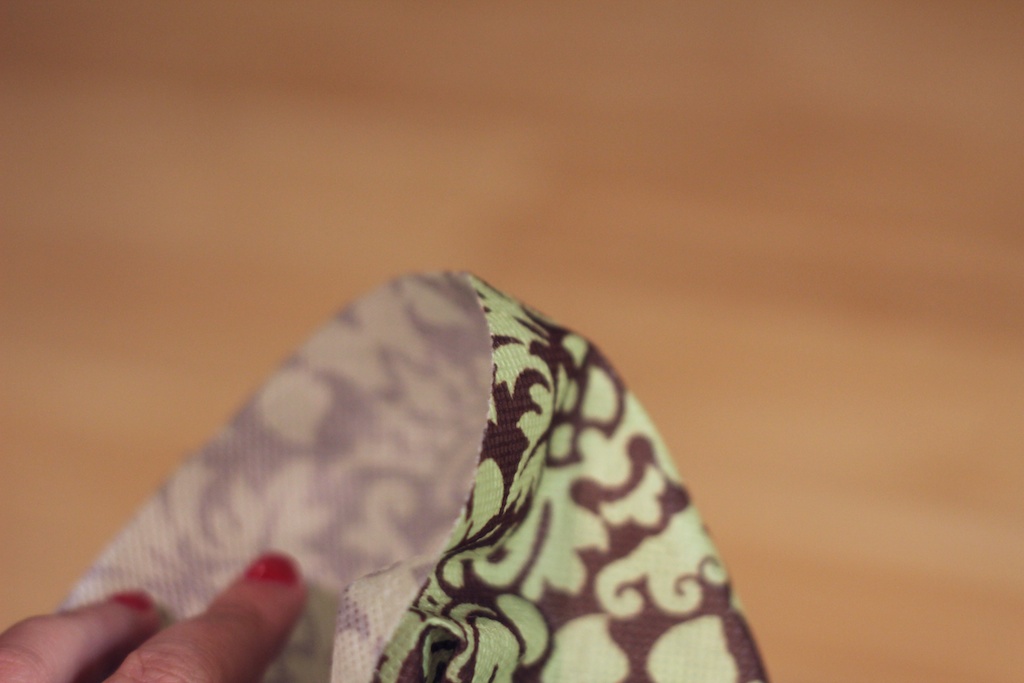 If I'm being perfectly honest, a big part of the reason that I never made the splat mats was that I wasn't sure how was too lazy to hem this.  In my defense, I'm not sure that this kind of fabric can be ironed though since I just came up that excuse today I'm not sure how valid it is.  lol.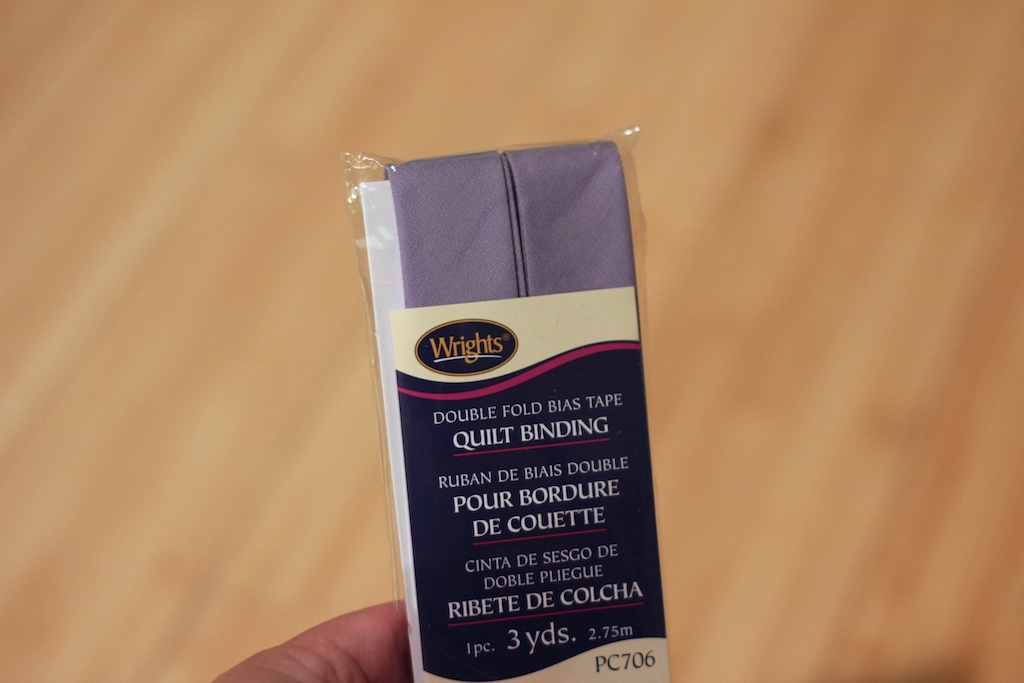 Then I remembered about bias tape!  I was first introduced to this miracle product back when I made my apron and it seemed perfect for this application.  I even remembered to get double fold this time.  I was thinking I would do it in teal, but Kate was with me when I was shopping and she *really* wanted purple.  We pick our battles over here and I was not prepared to go 10 rounds in the middle of Joanne's so purple it is.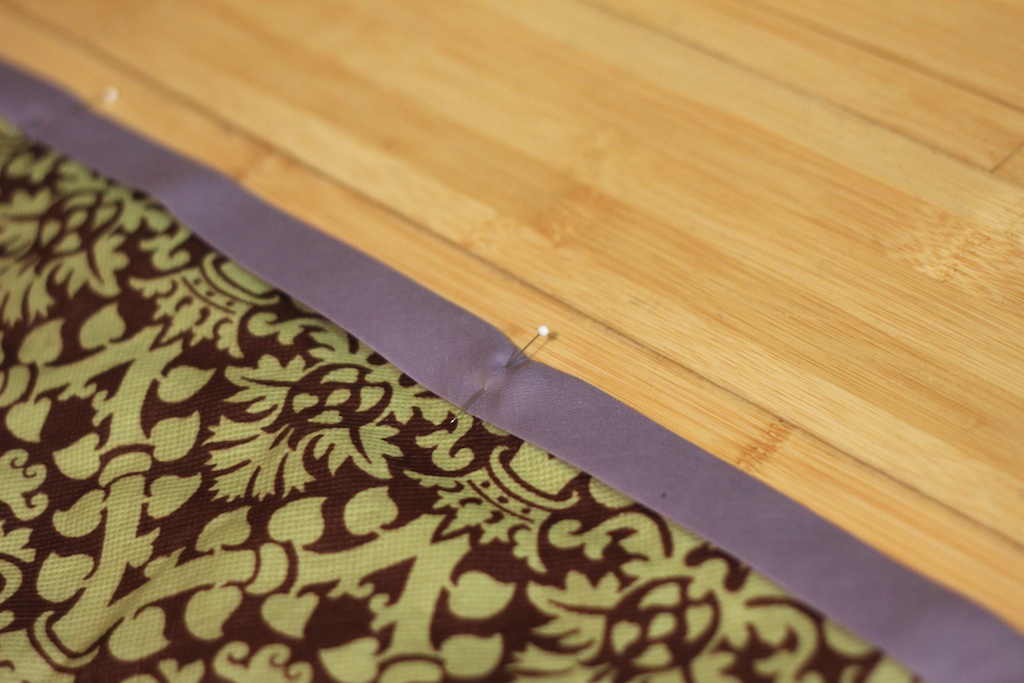 I was feeling fancy so I decided to pin it while Kate was finishing up her dinner.  I'm not sure if this is "right" or not, but here's how I handled the spots where the tape ran out.  I unfolded it, folded back a bit going the other way and then folded it back.  Clear as mud?  Check out the pics.
As yes I realize the colors are all wonky.  Note to self, when crafting at night make sure that you have something in the frame that's white so you can correct the white balance in post.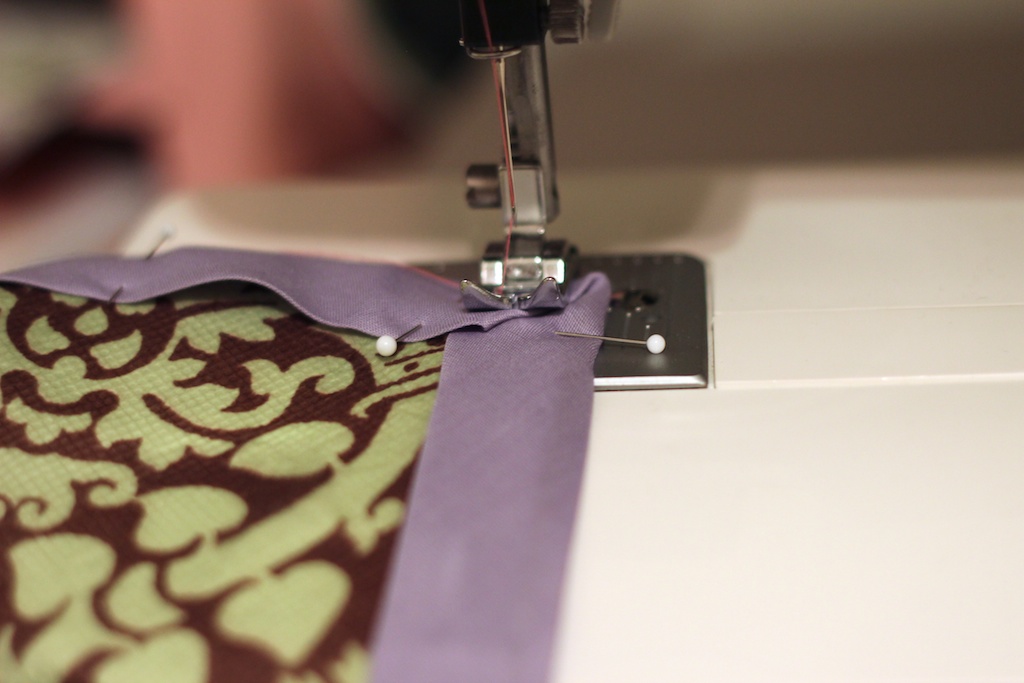 I folded the corners all pretty too.  That required both hands though so you don't get a pic.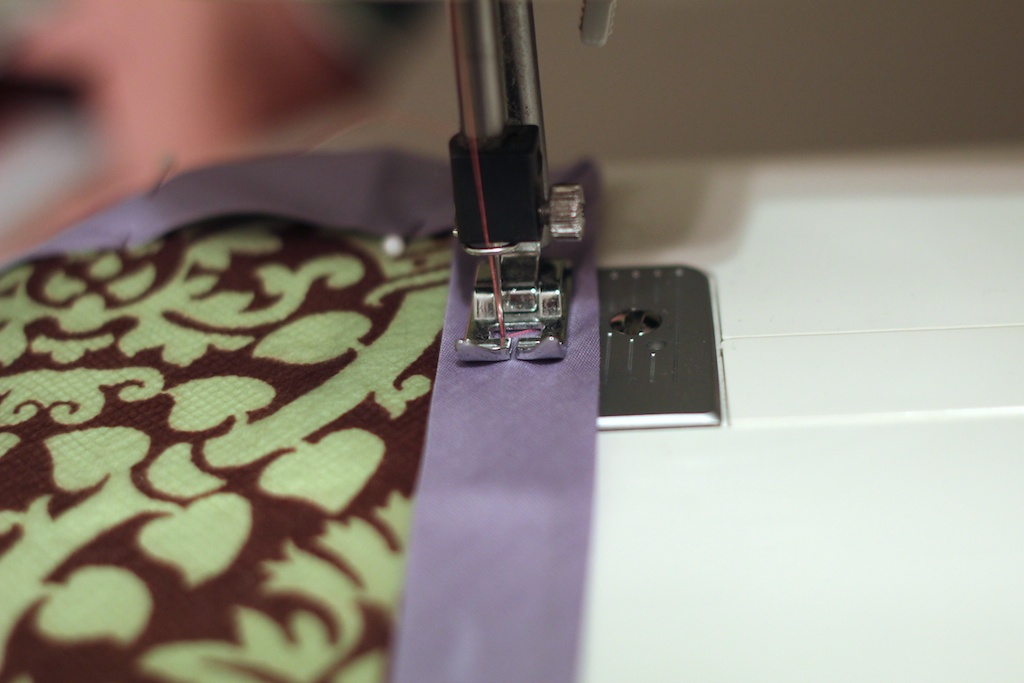 I used a zig zag stitch since I thought it would be more sturdy.  Plus, it just looked fun.  Since I didn't have any matching purple thread, I decided to use a high contrast color and make it look intentional.  I went with pink since that's Kate's fav.  🙂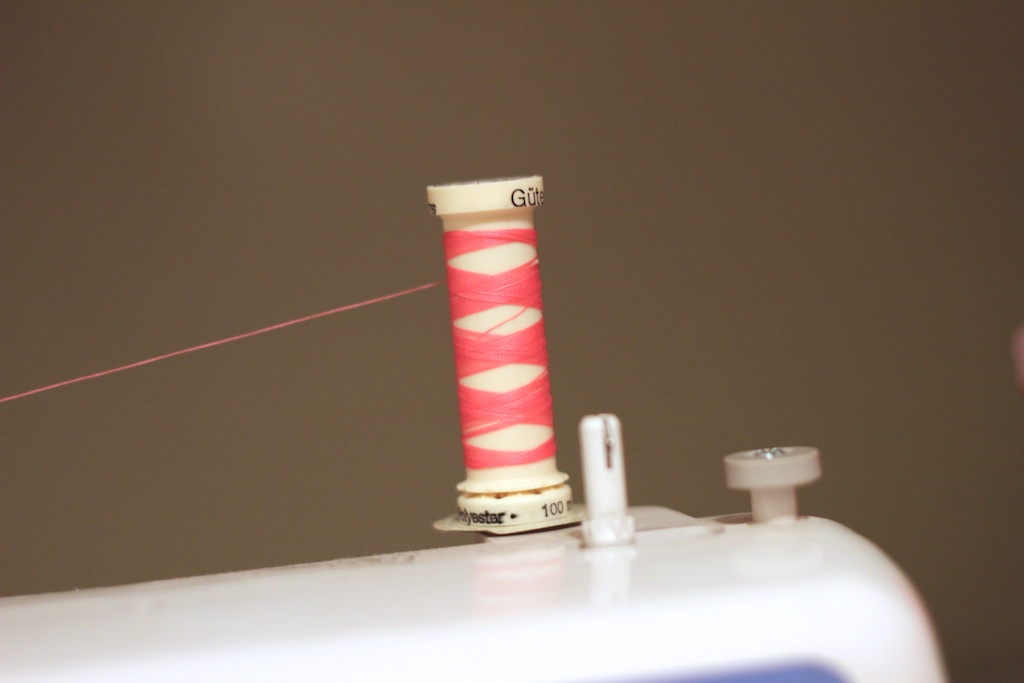 I panicked a bit at the end since I was *almost* out of thread and then the bobbin ran out.  It was a bit of a guessing game as to how much to put on the bobbin while leaving enough on the spool, but in the end I squeeked by.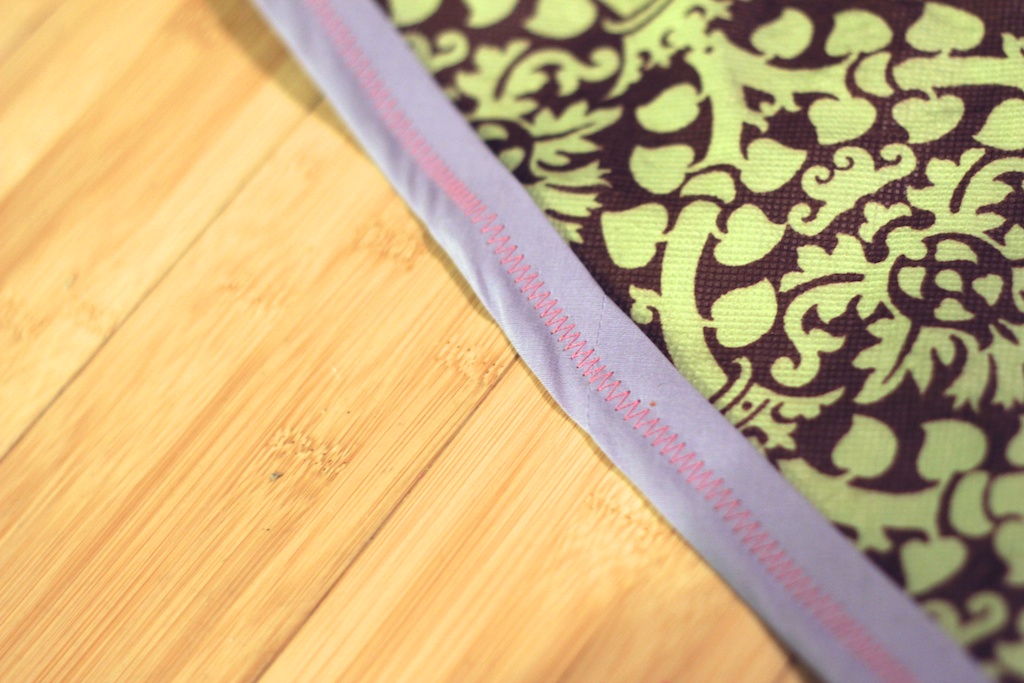 The tape gathered a bit as I was stitching it despite my best efforts.  This project might have benifited from some kind of special foot (walking foot?) but I'm way too cheap to buy anything like that.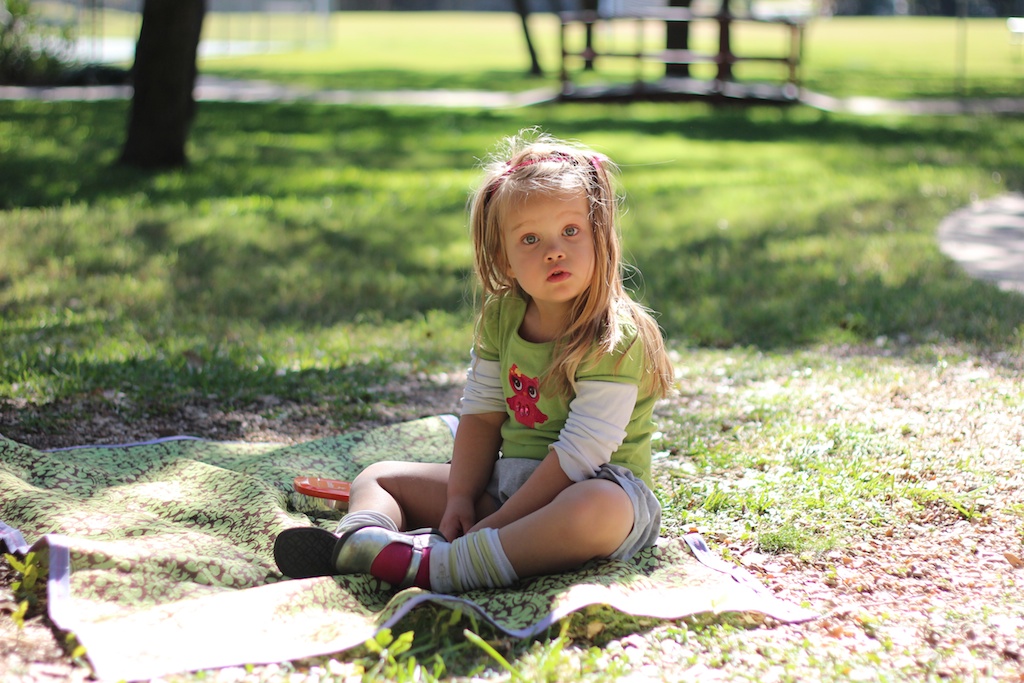 I'm really pleased with how they turned out.  Kate loved it, though I think she was over modeling for me.  🙂