This is actually from last year, but it seemed more timely to post it at the beginning of December so you had time to plan rather than randomly posting it in January February so I saved the post.  That's right, I've had this post scheduled since last February!   You'll forgive me if I don't go back and try to edit the picture, right?  Let's just pretend that I corrected the white balance, m'kay?  lol.
Last year I stumbled upon this via Pinterest and decided that I *had* to make it Christmas morning.  Or rather, that Michael should make it Christmas morning.  I think we can all agree that he is the far superior cook.  🙂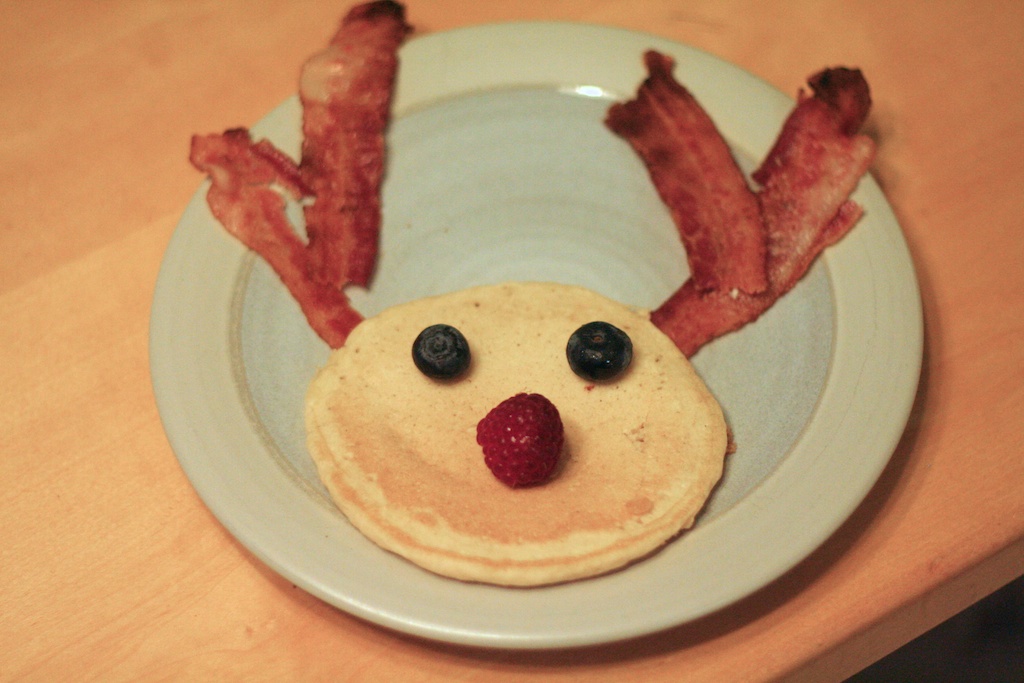 I made a few changes, namely 1 pancake instead of 2, and I used blueberries for the eyes instead of whipped cream and chocolate chips.  Y'all, I'm way too neurotic to give Kate whipped cream and chocolate chips for breakfast!  We also did a raspberry nose instead of a strawberry nose.
I think they turned out super cute!  Michael did get a wee bit grumpy that his pancake got cold while I was taking the picture.  What can I say?  I don't eat bacon so I couldn't use mine!  Kate was kind of ambivalent about the pancakes.  I think she was way more excited about all of the toys Santa left her.  🙂