I decided to forgo a traditional baby book for Kate.  I figured I love scrapbooking so I'll just keep a really detailed one.  Understatement.  I had to split her first 12 months into 2 separate books and they are still way too big.  Her second year books don't seem to be shaping up to be any smaller either.
Of course this did leave me with a dilema.  Where could I write down things like when she got each tooth?  It's not like I'm going to make a scrapbook page for each tooth coming in.  (Largely because she wouldn't open her mouth and let me take pictures of her teeth.  I totally would have done a scrapbook page about at least the first one or two.  Especially because her teeth came in out of order and she looked like a little jack-o-lantern with checkerboard front teeth.  Too adorable.)
Then I hit on the idea to include a calendar layout each month.  That way, no matter how much or how little ended up in the scrapbook for any given month, I would have a detailed record of what we did every day.  I thought it would be a really neat thing for her to be able to look back on as an adult.  I had planned on only doing it for the first year, but now I can't stop.  It's a sickness I tell you.  It's a good thing they are super simple.
I cut 2 strips of patterned paper 2 3/4 inches wide and adhere it to the outside edge of 2 12×12 sheets of cardstock.  For this layout I'm using some really yummy Christmas paper.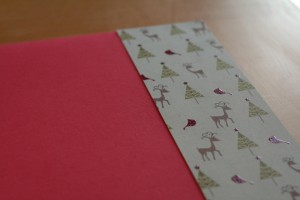 Then I cut out squares that are 2 inches by 2 inches.  One sheet of cardstock will yield 36 squares which is more than enough for a calendar.  I generally only cut off one or two squares from the last strip so that I have some paper left over for the title.  Usually I use a coordinating cardstock, but I'm running low today so I had to improvise.  I went with a lightly pattered paper from the same line as the edge pieces.  Once I have a nice stack, I draw a line around the edge of each square and write down what we did that day.  Be sure to include first teeth/ words/ food etc.
Then I glue them down in a calendar pattern.
Now, you'll notice there is a blank spot to the left of the calendar blocks.  My husband wanted to take a photo of Kate once a week for her first year of life.  (She was born on a Wednesday so every Wednesday we took a picture of her on this giant orange beanbag that we have.)  This seemed like the perfect place for the Wednesday photos!  We stopped doing the weekly photos when Kate turned one so now I use that space to include random pictures that end up on her blog but that I'm not going to scrapbook.  Usually they are camera phone pictures.  I turn them all landscape, make a collage in Picasa and then print them out as a single 4×6 print.  Then I cut them apart and adhere them to the layout.  It's the perfect way to showcase some "random" photos that don't warrant a page of their own but that you still want to include.
Next up is a title.  Usually I cut them out with my cricut, but sometimes I mix it up a litte with some chipboard letters or Thickers.  I particularly like the foam ones.  Of course I am always missing one letter, in this case an E.  The solution?  I put a chipboard star in place of the E.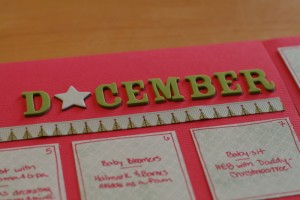 Last up is something to jazz it up a little.  Maybe a rubbon or some more chipboard in the extra square?  Or some ribbon?  How about both.  🙂