It's back to school time! Of course, for us this is pretty much more of the same since we'll be doing virtual school this year. After talking with the kids' pediatrician and Mia's cardiologist, we decided that virtual school was the safest choice for our family at this time. Luckily, the school that we're at seems to be really on top of things so I'm cautiously optimistic that it will be ok.

I've been brainstorming ways to make this ok for the kids. Kate was really looking forward to decorating a locker, having lunch with her friends, and being more independent with her school work. To facilitate independence, she decided to move her main work area from the office to her room. She currently has a lofted bed with her desk underneath, so I let her decorate her desk with some fun new desk organizer stuff, and she clipped a sheet to hang off of her bed and give her a fun background for her zoom calls. Here she is trying the set up out during a week of virtual girl scout camp.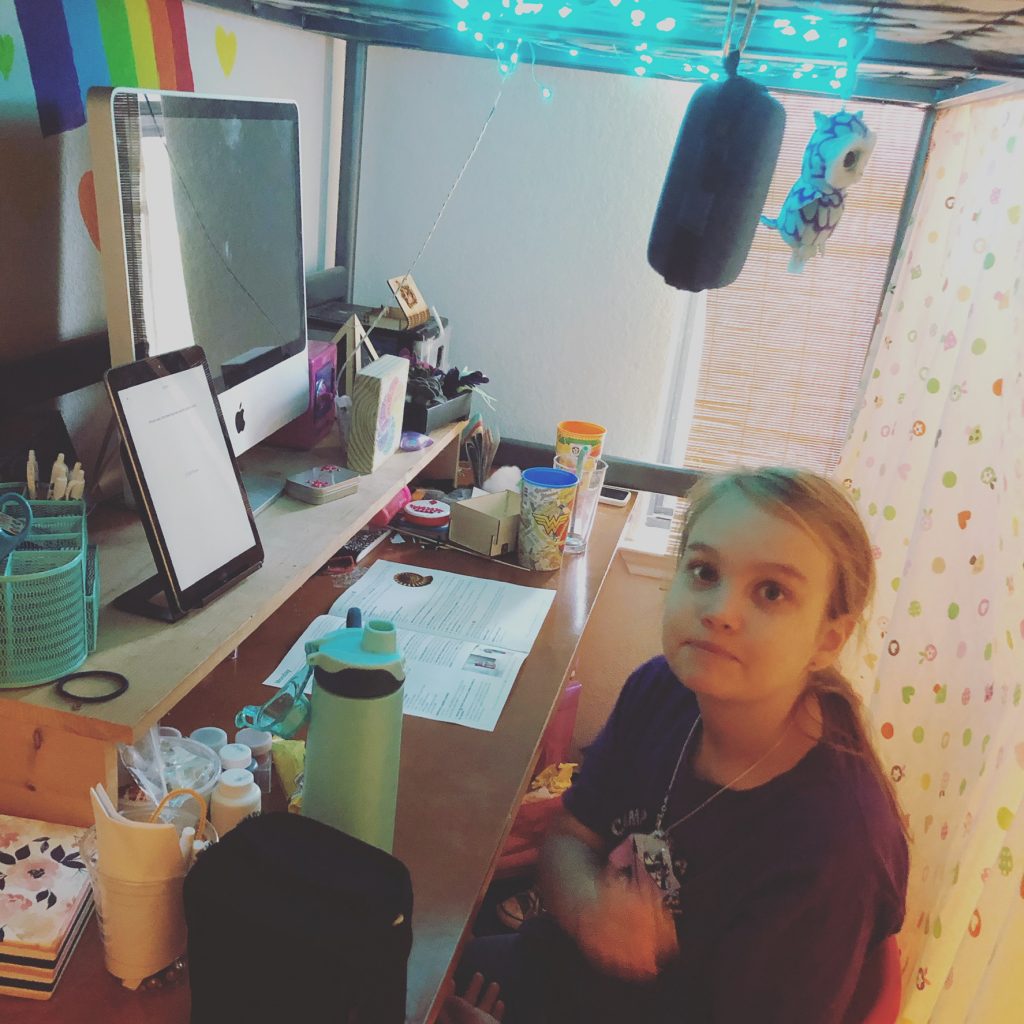 As for lunch, I think the plan is for her to have a zoom lunch chat with her 2 besties a few times a week. All 3 of them opted for virtual school. 🙂
I'm curious to see what kindergarten will look like for the twins. And by curious, I mean terrified. lol. I do not feel at all confident about teaching them. But, it's all going to be ok. For the first week, I'm going to go ahead and prep the letter a week/ Montessori trays for them and then I'll see how it goes. Maybe it's awesome and they get used during downtime. Maybe we stick with each letter for 2 or 3 weeks instead of 1. Maybe we chuck it out the window. I'm trying to cultivate my inner (currently nonexistent) flexible persona. lol.
No, it's not perfect, but we're all practicing making the best out of our limited options. That said, I'm anxious to see how the first week goes. One awesome thing is that the kids all still get early release days on Wednesdays so we went ahead and sprung for the Garey Park membership. Who knows, once we find out how long Kate really has to be logged on for every day, we might bust out my phone's hotspot and try school from the park. lol.