Merry Christmas y'all!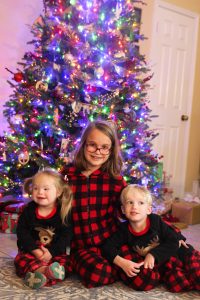 I love matching Christmas jammies!
Our Christmas was perfect.  🙂  Lots of family, friends, good food, and good company.  Now it's time to start thinking about the new year, but before I set 2019 goals, I thought I would set 5 goals to accomplish in the next 5 days.  Have I mentioned that I love setting goals?  lol.
 Write thank you notes.
Finish 2018 December Daily.  I must have been very good this year because Santa brought me a new photo printer!  <3 <3 <3
Take and edit family pics.  MY sister's friend asked me to take some family pics for her extended family.  Yikes!  Fingers crossed.  lol.
Edit/ Print/ Scrap November 2017.  Yes, I am that far behind.  lol.
Organize new toys.
Will I get all of this done?  hahahahahahahaha.  No, but I will get some of it done!