First, how'd I do with August?  Let's take a look.
 Scrap January 2015.  Done!  I rewarded myself my scrapping some current pics.  🙂
Birthday pictures.  Oh my goodness.  The babies are 16 months old.  I think I need to accept that smash cakes pics just aren't going to happen.  I did get some pics at their birthday party and I think I'm just going to have to deal with the fact that that is as good as it's going to get.  Since that was my main excuse against cutting Xander's hair, it looks like I might have to go ahead and concede defeat on that one too.
Paint DAD letters.  Done!  They look a bit, um, rustic since I painted over the previous teal incarnation and I wasn't particularly neat when I painted that year. Oh well!  If I ever get these pictures done it will be a miracle 😉
Organize needlework projects.  Done!  In fact, I went ahead and organized the craft shelves in my bedroom while I was at it.  What?  You don't have overflow craft shelves in your bedroom to hold projects that don't fit in your craft room?
Summer reading stuff.  Whoops.  I went to enter her last 2 rounds of books, but the deadline had already past.  Thankfully, Kate wasn't too bothered by this.  She loves to read so much that she doesn't really need an external motivator.
Living room wall plan.  Yeah, not so much.  lol.
Garage sale box.  Ha.  Hahahahahaha.
Scrap beach trip.  Done!  And I had so much fun doing some current pics.  I didn't end up bringing my big camera down to the beach once, (I was worried about getting sand in it) but I got some great pics with my phone and some cute ones with my waterproof camera.  I will say that I love my waterproof camera for underwater pics, but obviously the water was way too cloudy for that to be viable at the beach.  I do love that I can take it out in the water, but the quality isn't all that fantastic if it's not in the water.  Still, I would have been way too nervous to take my camera or even my phone out into the waves so I got pictures that I wouldn't have been able to get otherwise.  One day I'm going to upgrade my waterproof camera, but it's pretty far down on my wish list.  First I want to buy all of the scrapbook kits.  lol.
Waterproof Camera.  I did pull all of the pics off of the waterproof camera and got them all organized.  The ones from our trip out to West Texas are amazing.  I can't wait to scrap them!
Planner love.  It's not quite a habit yet, but I have pulled out my planner and started using it again.  I need to print off a few new pages, but I love that I getting organized again.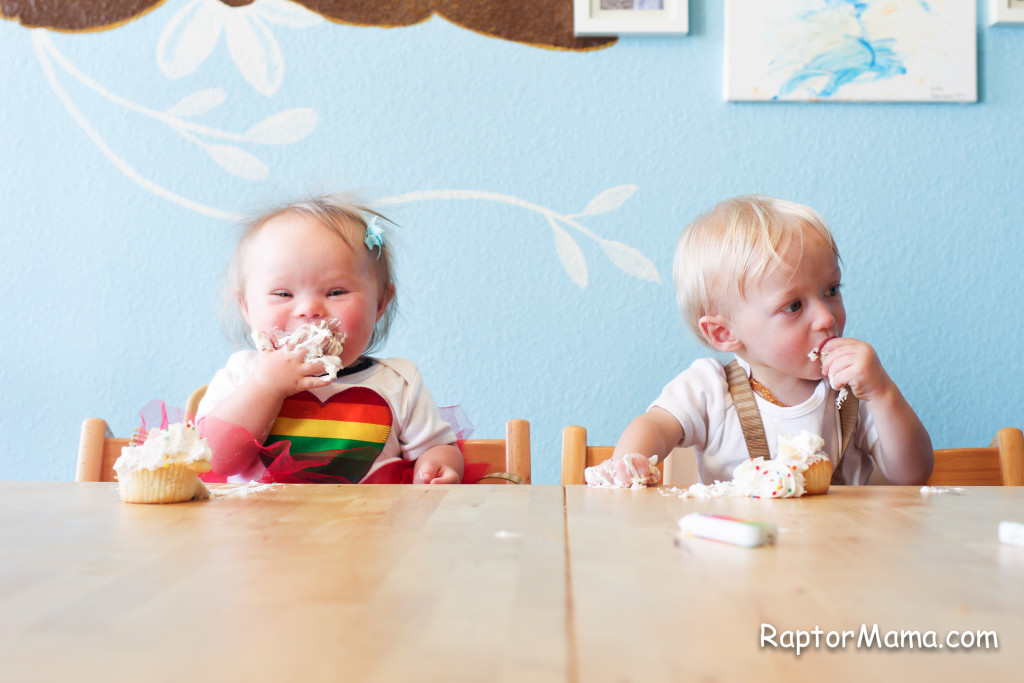 Look at my tiny babies at their birthday party in March!  Soooooo cute!
Now time to set some September goals…
 Scrap February 2015.  I have 3 events to scrap, but one of them is my sister's wedding (at which Kate was an absolutely adorable flower girl) so I might end up with more than 1 page for that.  We'll just have to see how it goes.  I might scrap one pic and then have a facing page with 6 4×6 photos tiled.
Finish June, July, and August for 2016 Project Life.  Let's be honest, there's no way all of this is getting done in a single month, but I cancelled my Studio Calico subscription and signed up for a Hip Kits subscription which starts in September.  I can't wait to get my new goodies!  With that said, I have a half used kit from June and unopened kits from July and August that I would like to use before I get my new stuff and the old stuff gets tossed aside.  We'll see how far I can get with this goal.
Decide on Halloween costumes.  Obviously this will involve coordinating the babies with whatever Kate decides on.  lol.
Scrap 10 current (non Project Life) layouts.
Work on Xander's stocking.  I'm going to spend September working on Xander's stocking and October working on Mia's.  I would really like to get them done this year.
Finish hand towels.  Another Christmas gift.  This one is some cross stitched hand towels that ended up being loads more complicated than expected.  Looks like I need to find a new netflix series to binge watch!
Make FALL letters.  These have been on my seasonal decorations wish list for a long time.  I even have the paper!  I just need to go buy the letters and make them.
Organize DVDs.  This is part of a larger goal to clean out our hall closet, but first up is to (hopefully) add a bunch of DVDs to the garage sale pile and find a home for the rest.
Finish felt letters.  Oh my.  These are so overdue.
Figure out something for family pictures.  Tripod maybe?  Or possibly just pics of the kids again.  I also want to find a new location.