Bees were such a huge hit last week and I'm even more excited about our caterpillar activities.  I'm loving this project!  It has really cut back on the tantrums and such around here.
I sent out a bunch of printables since Raptor's favorite thing about the last 2 weeks has been the worksheets.  I found a great caterpillar book template and some fun math sheets on Pinterest.  I also have some letter tracing sheets.  I made 5 trays this week.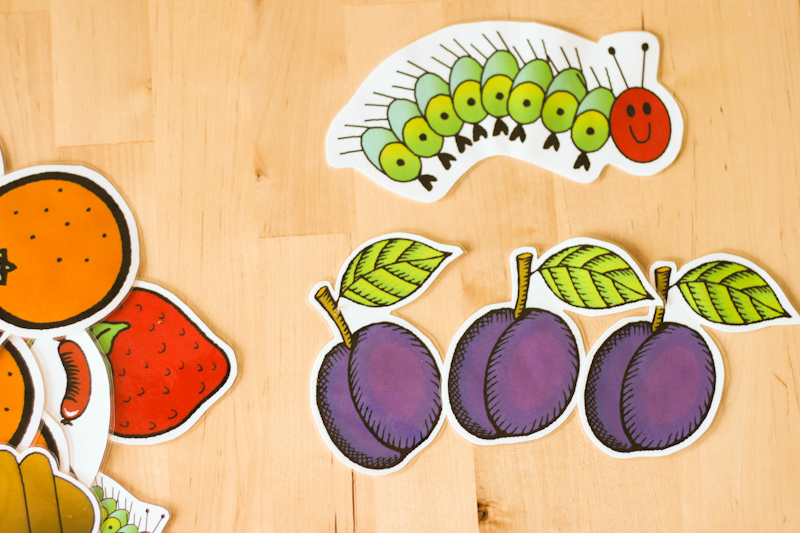 I printed these The Very Hungry Caterpillar Sequencing Cards in color, cut them out and laminated them.  I'm going to put them in a tray with the book and let Raptor tell the story.  I figure we'll start with me reading it to her and her putting it in order and progressing toward it being an independent activity.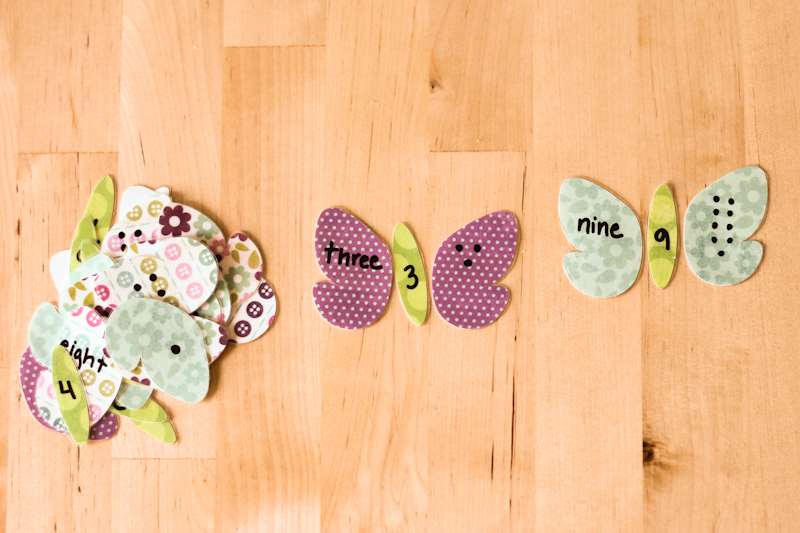 I'm not sure if she's quite ready to do this one by herself, just from a reading perspective, but I figure that it will be a fun one to do together.  (And yes I realize that I'm cheating a bit by having butterflies.  I'm fine with that.  🙂  )  I cut these pieces out on my cricut using a modified version of this and laminated them.  The body has the numeral, the left wing has the word, and the right wing has the corresponding number of dots.  In an effort to make it easier, I used 4 different sheets of patterned paper.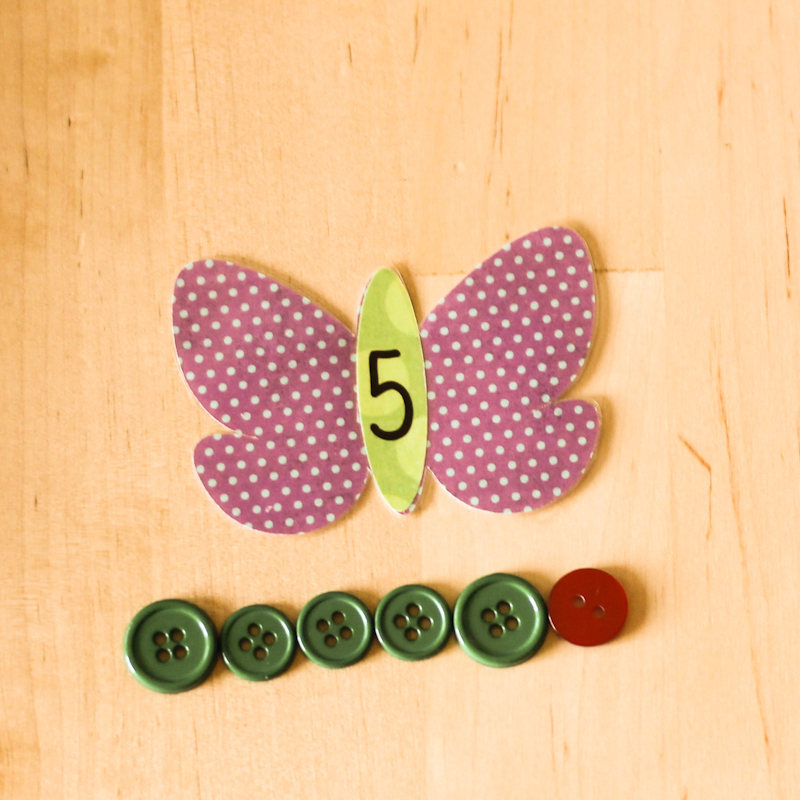 For these, Raptor will lay out the correct number of buttons to make the green body plus the red head.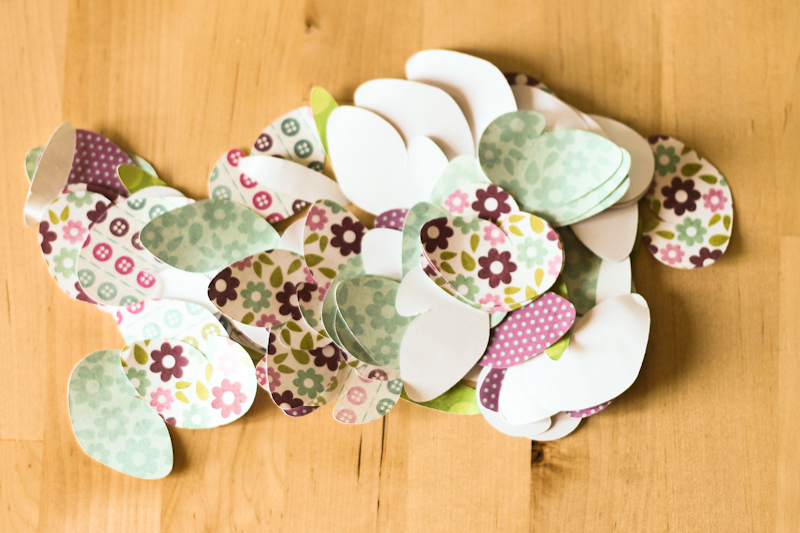 I had a bunch of leftover wings and bodies that I plan to put in a tray with some background paper and a glue stick.  I imagine this will end up being her favorite activity.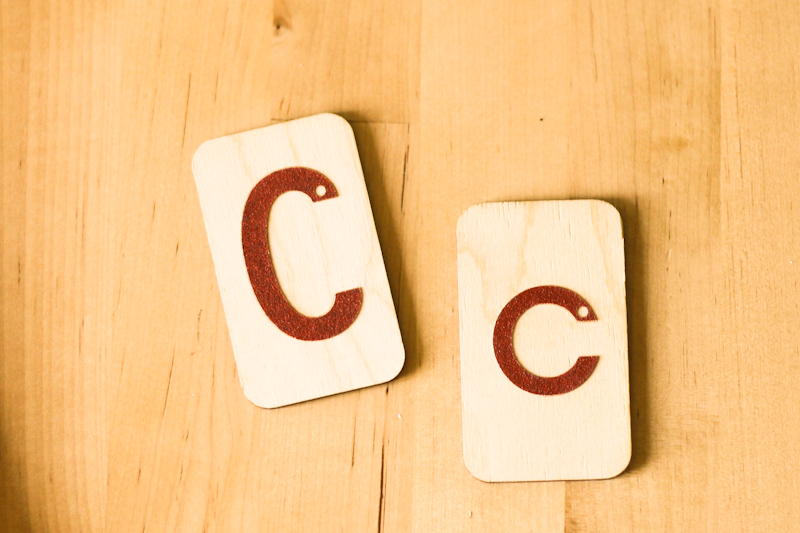 I'm also going to put out her sandpaper Cs.  Raptor got these for her first birthday and they are amazing.  They are very high quality and I highly recommend them.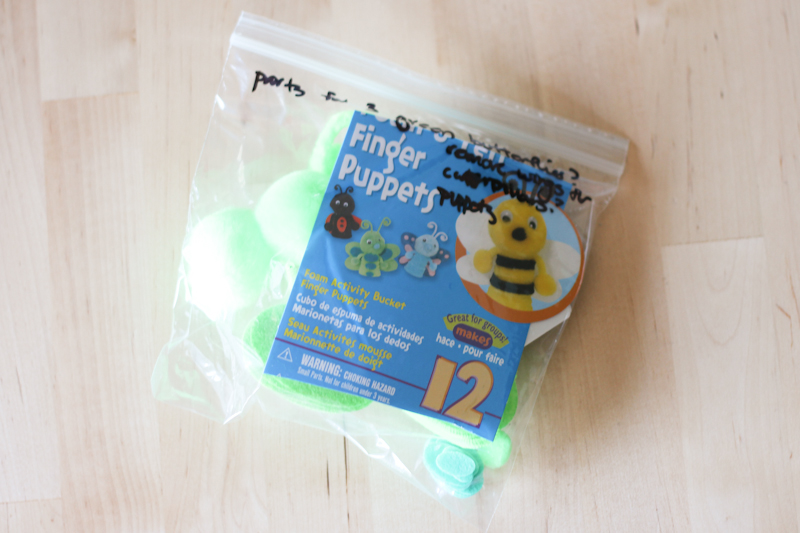 For crafts, I think we're going to make these finger puppets.  She's enjoyed playing with the bee ones, but they had to be assembled with hot glue so not exactly the kid friendly activity I was hoping for.
We're also going to make caterpillars out of Cs, glue down red and green pom poms to make caterpillars, make caterpillars out of egg cartons, and do some kind of a tissue paper collage.  It should be a fun week!