Oh boy.  I had such good intentions of starting digital Project Life.  I had watched some tutorials, I know which edition I wanted, I had my photos edited and ready to go, I had even identified which stories I wanted to focus on.  Then…  reality hit.  The edition I want wasn't released last week, or this week.  No problem, I thought.  I'll just fill in the cards later.  I sent Raptor off to preschool, finished the grocery shopping and was finally ready to tackle digital scrapbooking.  Should be a piece of cake, right?  Ha ha.  Ha ha ha.  I'm laughing hysterically over here.  I spent about 30 minutes of my precious preschool time cursing at the computer and then threw in the towel. RaptorDad has assured me that he will teach me to do this.  Honestly, I'm not sure that I'm teachable.  I'm pretty much an idiot when it comes to computers.  All that to say that instead of looking at my shiny new digital page, I took pictures of some of my traditional Project Life spreads.  Enjoy!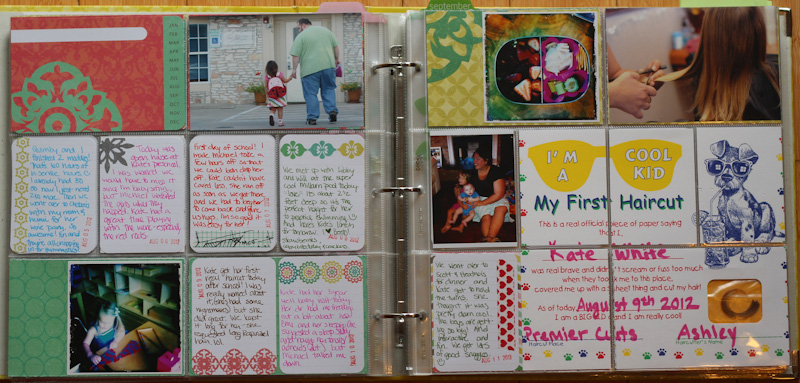 Here's a page where I did a little something different.  Raptor had her first hair cut this week and they gave us a certificate.  Now, this isn't something that I'm going to put in her regular scrapbook, but it was fun to include in project life.  Incidentally, I only use design A, so if something (say this certificate) doesn't fit, I cut it apart to fit into the pockets.  I actually think it looks neat that way.  Then I shifted the journaling cards around to make them fit.  (I do the journaling cards more in the moment and then add the pictures/ plan the layout later.)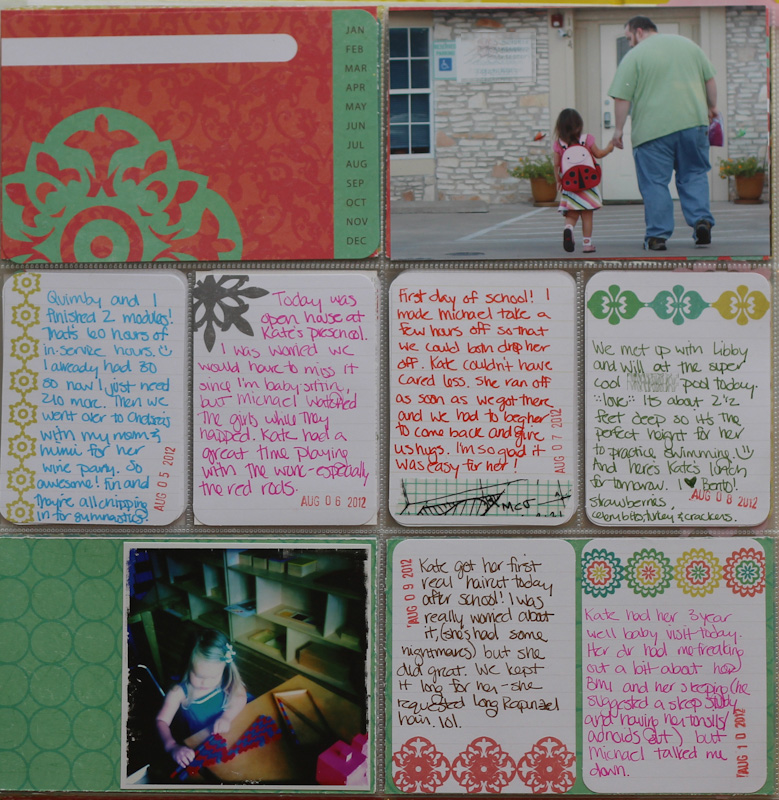 I ended up with one Hipstamatic picture and one DSLR picture on this page.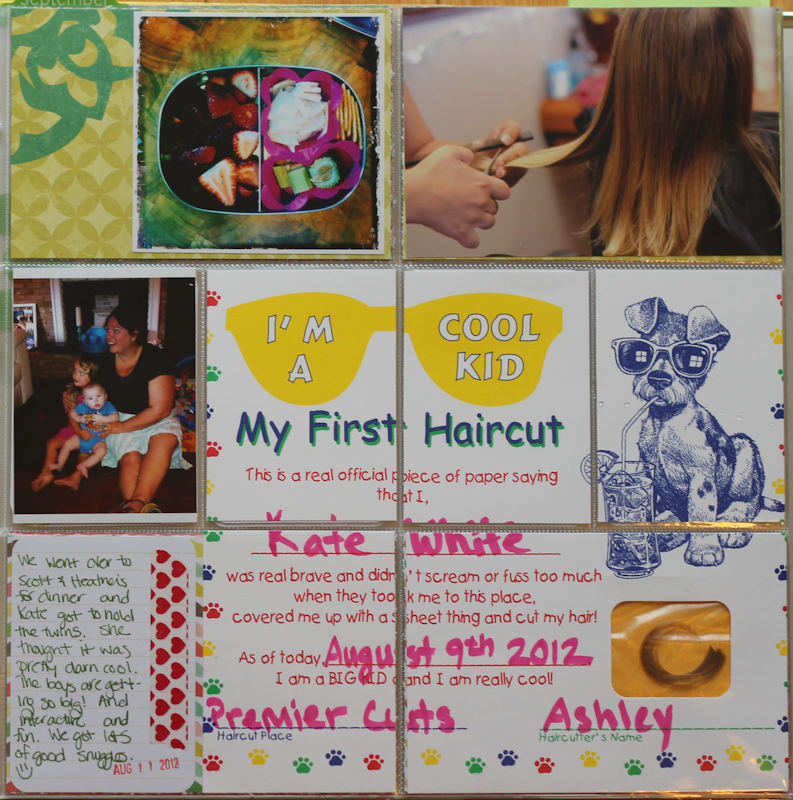 The second page had one DSLR, 3 Hipstamatics, and the certificate which I cut apart to fit.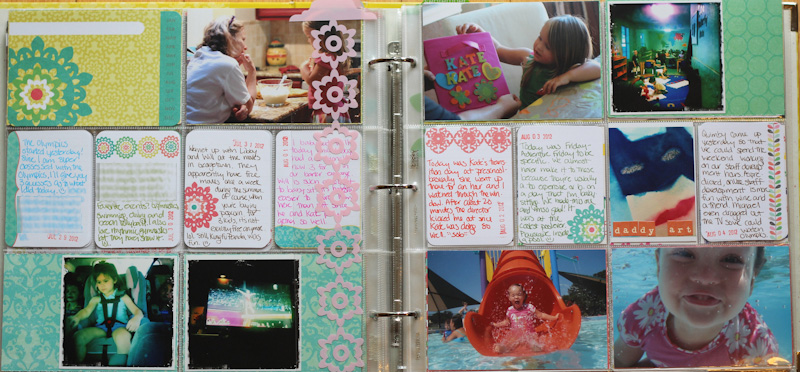 Here's an example of a more typical page for me. The journaling cards down the middle and a mix of DSLR and Hipstamatic prints.
Why yes, that is a picture of my TV.  What can I say, I'm obsessed with the Olympics.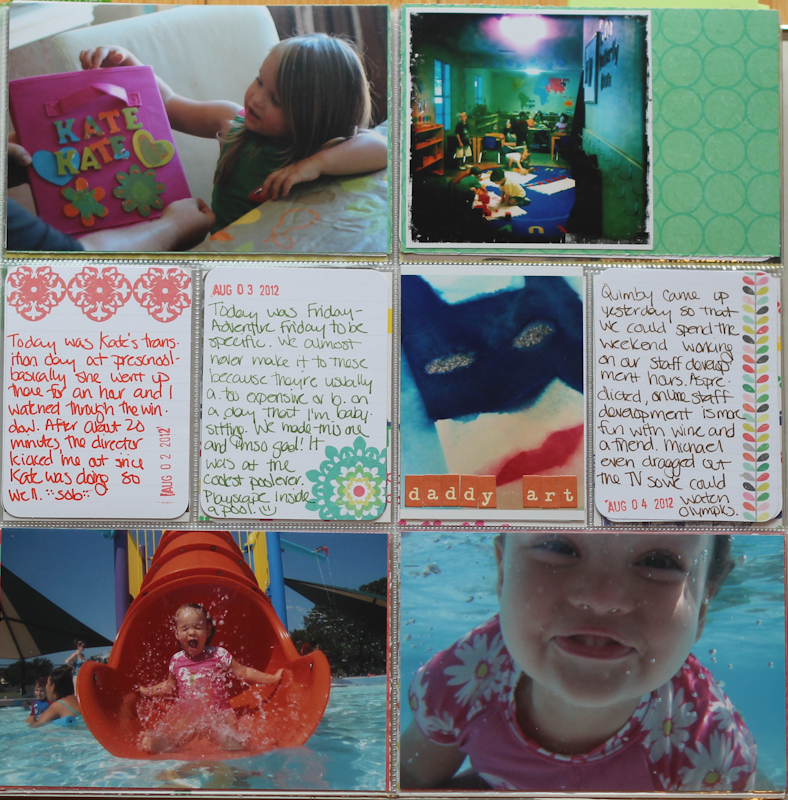 Most of the time the craziest I get is added a bit of washi tape to the "B side" of a journaling card, but I went crazy here and added some October Afternoon letter stickers to this picture.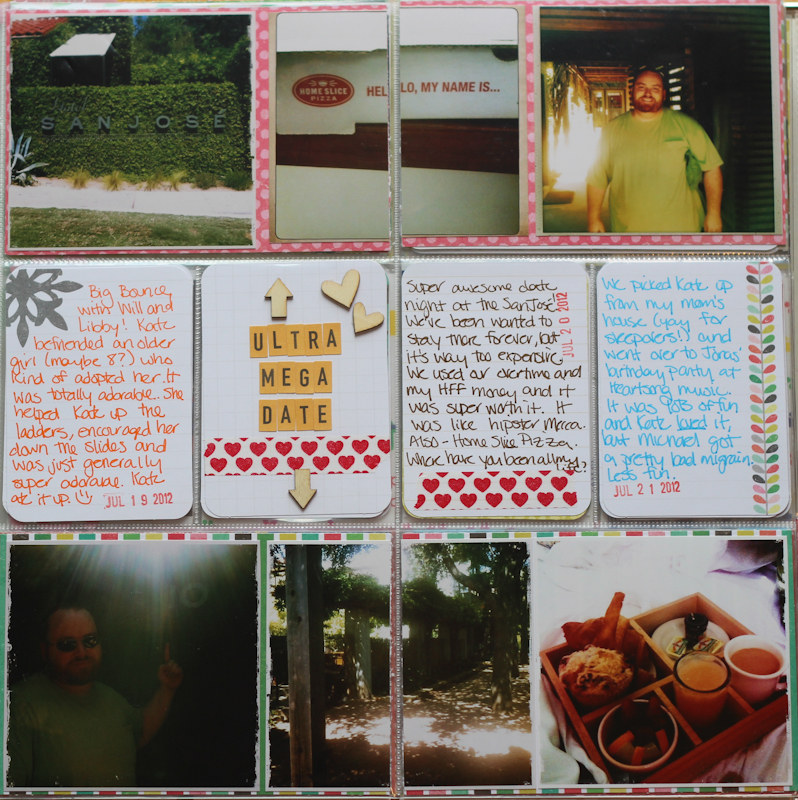 The first year I did this project, I was totally committed to a 365 approach.  This year?  Not so much.  I'd say that the majority of my layouts have a picture a day, but not all.  This right side of the spread is entirely from RaptorDad's and my super awesome overnight date night!  I didn't want to include a whole layout about it in Kate's book (because it's Kate's book and all) but I did have some fun pictures.  Project Life was the perfect place for it.  The journaling is still a 365 approach because, like I said, I do the journaling much earlier than the layouts.  (This is a big part of the reason that I'm thinking of switching to digital Project Life for this year.)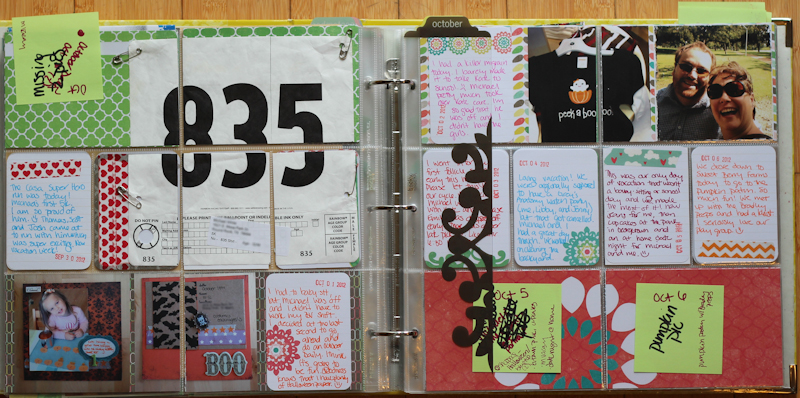 I included this half finished layout because I thought it might be interesting to talk about my process a bit.  The first thing I do is fill out the journaling cards.  I really try to keep current with these, but I'm usually a week (or 4) behind.  Then I go through and order several months of Hipstamatic prints at a time.  Once they arrive, I sort them by week and then plan the actual layout.  You can see in this one that I've adheared the prints and ephemera where they'll go and then identified the gaps.  At this point, I edit my DSLR photos (if I haven't already) and pick out a few to fill in the empty bits.  (I try to move pics that I want to order for Raptor's main scrapbook in a special "to be ordered" file at the same time.)  I put a sticky note where these pictures will go and then move on.
And that's basically my process!  I'm totally on the fence at this point with regards to digital vs traditional Project Life.  The traditional materials won't hit the stores until May though, so I figure I have a bit more time to make my decision.  Anyone want to weigh in?  Digital fans?  Traditional fans?  I'm open to suggestions.  🙂