I'm back with the second installment of the minibook saga.  🙂  Here's the second page.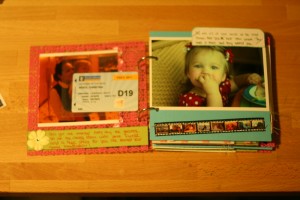 I lined this photo up with the photo on the other side of the transparency so that the adhesive would be covered up.  It wasn't a great photo, but this girl was amazing and I wanted to include a pic so I could journal about it.  I found some clear envelopes that I bought 12 million years ago and I added one on top of the photo so I could put our sea passes in it.  If you take out the sea passes then you can clearly see the photo.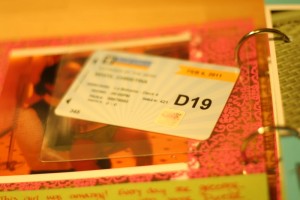 I added a strip of green cardstock which I journaled on and then I threw on a prima flower and some bling.
On the facing page, I started with the freaking adorable picture of Kate.  In case you can't tell, she was a huge fan of the buffet.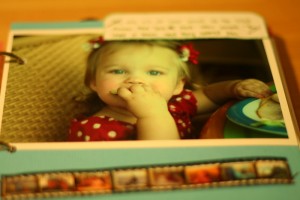 This is also the first page that I used the Tim Holtz film strip ribbon on.  I *love* it.  I printed out a ton of pictures when I was planning on scrapping these pics as 12×12 pages and obviously I couldn't fit them all in a minibook.  Since they were already printed I happened to have index prints of them which is what I used in the filmstrip ribbon.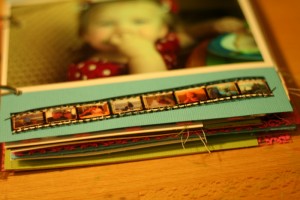 I ran the ribbon through my xyron machine and then attached the tiny index prints to the back.  Then I stapled the whole thing to the page.  Love, love, love.
I think I'll do one more post about the book on Wednesday and then move on.  I have new stuff I've been working on.  🙂