I haven't had very many substantial blog posts in the past week or so because I've been working on this minibook.  I finally finished it and I can't wait to share!
I <3 minibooks.  I had a blast making my December Daily (here's Ali's) and have been looking for an excuse to do another one, so when I recently looked at my to-be-scrapped list and saw that it had 7 or 8 2 page layouts from our recent family cruise, I decided that it was a minibook waiting to happen.  I was also dying to use my new Tim Holtz filmstrip ribbon tape and this project was the perfect excuse.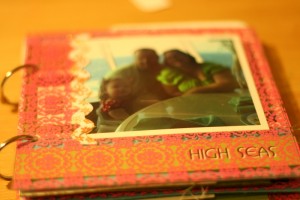 I'm going to break this down into 2 posts several posts in an effort to avoid making this post 12 pages long.  🙂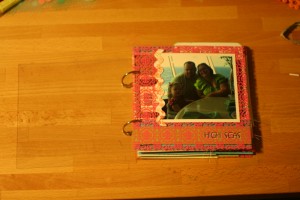 I found some plastic sheet thing in our office that, according to Michael, came out of a picture frame.  Score.  I was going to order an acrylic album, but I'm cheap and impatient so this was way better.  I used my trimmer to cut it and then punched holes in it with my crop-a-dile.  Side note: I am in love with my crop-a-dile.  I used an old acrylic album as a template to decide where to place the holes, but if I had to do it over I would have put 3 holes in the album instead of 2.  I might add some stuff to it later, but for now I'm leaving it blank.
On the right you can see the first page.  I used a Hambly transparency that I bought forever ago.  It was so nice and thick that it worked great as a stand alone page.  I trimmed one of my 4×6 prints down a bit and added some ric rack so the side of the of the photo with staples.  Then I got all fancy and put some stickles on the staples.  Yum…  glitter.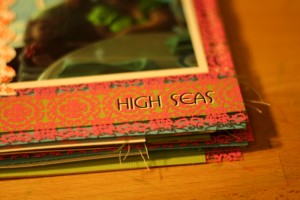 A million years ago, I was on a design team at a local scrapbook store which is now out of business.  Basically, I got products once a month to make a layout for them to display in the store.  One month they gave me some cruise rubbons which I had to get pretty creative with as I had never been on a cruise.  Clearly my pack rat nature has paid off.  I actually found these and added one to this page.
You can see green showing through from the back of the page and that was intentional.  One of the challenges (and a lot of the fun) of working with transparencies is that they are, well, transparent.  To keep the adhesive from showing through on the green strip of cardstock, I used my Xyron machine.
Hmm…  I was hoping to get a few more pages included in this blog post, but it's already pretty long.  I'll post some more on Monday.  I would love to know what you guys think!