We've been on a project streak around here and today bird feeders were up on the list.  For some reason, I felt like we needed pinecones to do this (holdover from my early childhood on the coast?) but there are no pinecones up here so we had to improvise.  Michael had the awesome idea to use corn cobs as the base.  We got corn as part of our CSA last week so it worked out perfectly.
Step one- eat some tasty corn!  We were shooting for an allergy free project (Kate's friend Emily is allergic to dairy, egg and nuts) so we roasted the corn with a touch of vegetable oil instead of putting butter on it.  It was super yummy.  🙂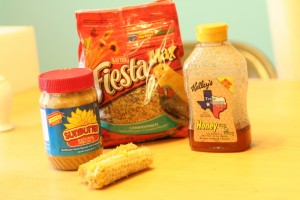 Step 2- gather the ingredients.  We subbed sunbutter for peanut butter.  Incidentally, I tried so hard to make this allergy free, only to find out that the birdseed had egg in it.  Le sigh.  I had no idea that birdseed could have egg in it.  I was checking it for nuts.  You win some, you lose some.  We decided to do this project while Emily was napping to be on the safe side.
Step 3- we added honey to some sunbutter to make it stickier.  I feel like there are probably a million tutorials for this online, but we just kind of made it up as we went along.  🙂
Step 4- smear the sunbutter/ honey mixture onto the corn cobs.  The girls were a little hesitant about getting their hands dirty, but I assured them that we would wash our hands when we were done.
I believe Abby's exact quote was, "Um, Christina, my hands are yucky."  Fair enough.  🙂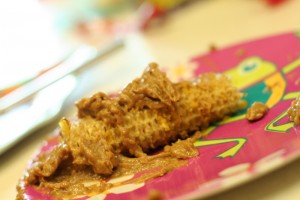 I went ahead and smoothed the sunbutter down with a knife.  I think if we try something like this again I'll get them little spatulas.
Step 5- coat in birdseed.  The girls had pretty much lost interest at this point so I went ahead and rolled the corn cobs in the birdseed.  Michael put a screw in the top of each one and I tied a ribbon loop to it.  It turned out pretty cute even if the girls weren't so into the process.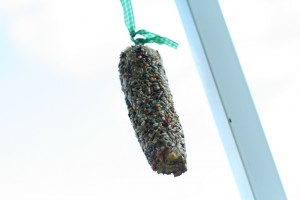 I hung the birdfeeder outside and we eagerly awaited some birds.  This morning when we woke up it was gone.  There was nothing but the screw and some ribbon left.  Either it got windier than I thought last night or something decided it looked mighty tasty and carried it off for a midnight snack.  Overall, this was a pretty fun project though it would be better suited to kids who like to get dirty.  🙂