How is it July already?!? And speaking of, how is my beautiful firstborn a teenager!?! That's right, the OG Raptor turns 13 today. Unfortunately, birthday plans had to be revamped because she's been sick these past fews days, but she's negative for COVID, strep, and flu A/B and she's fever free as of last night so we're having a fun, low key, morning with donuts and minecraft. All in all a good day.
But how about some goals! lol. Let's see how I did in June…
Bee Yourself. I didn't finish the lyric block because I forgot it at my grandmother's last week when I took it over to show it off. lol. But it's very close to done and I'm delighted with it. I didn't get the London flag done, but I got all of the others done and I got all of the country name embroidery done so I'm quite pleased with that. And I got the Sunshine block designed and finished! All in all, I am delighted with the progress I've made and I'm actually finally convinced that I might finish this quilt one day. lol.
Smitten Quilt. Done! At least the top. 🙂 Now I just need to decide how to quilt it.
Scrap. I didn't get July 2019 done, but I did get October 2021 done! So that's something. 🙂
Advent Calendar. Not a thing.
Passport. I'm sensing a theme. :/
Purge Art Room. Done! Oh my gosh, I got rid of so much stuff and my new room is amazing!!!
Toy/ Clothes Purge. I still need to get rid of more toys, but this was also a huge success! And the twins love their new room.
Current Scrap. Nada. We still need to finish hooking up the computer/ photo printer.
Semi-Current Scrap. See above. lol.
Project Life. hahahahahaha.
So I didn't get a ton done with on the scrapping front, but we did manage the room swap which was a Herculean task. Especially since it also included repainting both rooms and assembling new beds for the twins. 🙂 All in all, I'm super happy. 🙂 And check out my progress on Bee Yourself!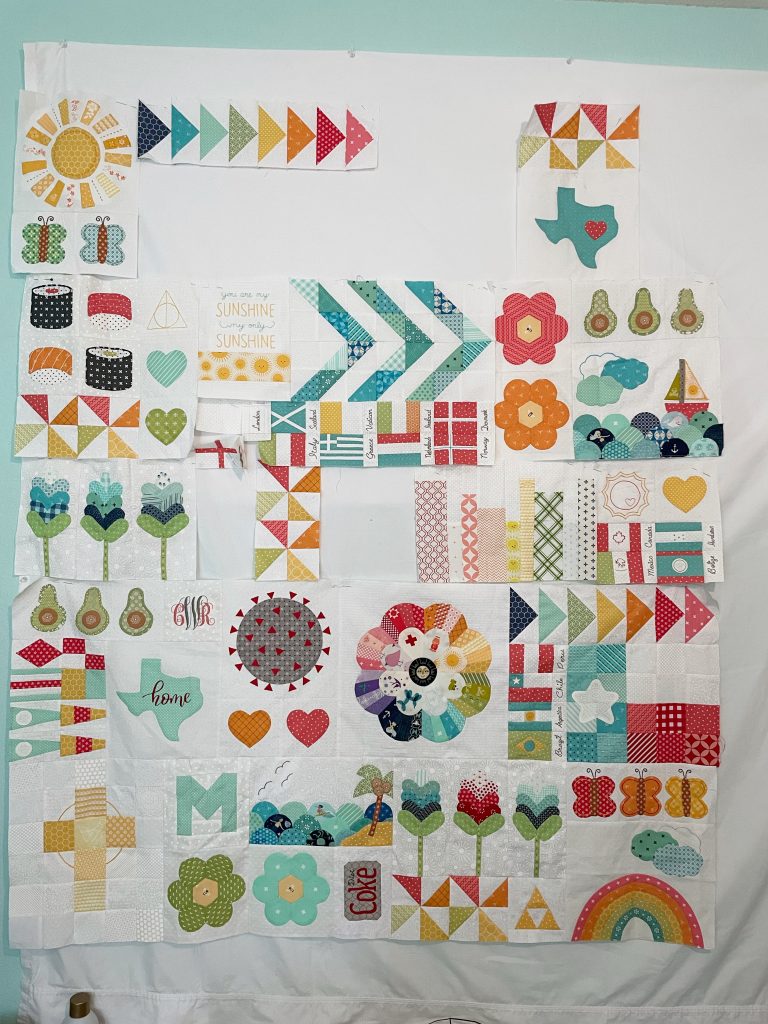 July Goals.
Advent Calendar. Yikes. I'm planning to do a little Christmas in July action with the kids so maybe that will motivate me? OK. Gold trim. Must finish gold trim.
Bee Yourself. I decided to do 2 more hexagon flowers for the upper right hand corner and I got them prepped yesterday. I'd like to finish those, finish the lyric block, and finish the London flag. The end is near!
Speaking of quilts, I've decided to enter my Caterpillar quilt in the Austin Quilt Show! I'm super nervous, but I'm also really proud of that quilt. 🙂 I wanted to enter both the butterfly and caterpillar quilts as a set, but then I learned that it's $45 to enter a quilt. ::yikes:: So one it is. lol.
Hexagons. I want to rebaste my hexagons so that I can start hand quilting it again. 🙂
Project Life. Um… How about trying to wrap up 2021. hahahahahaha. Or at least make some progress on it.
Scrap Prep Ancient Stuff. Um… Maybe scrap list/ edit/ print July, August, September of 2019? If I can get organized, maybe I'll be motivated to work on it.
Scrap February 2021. According to my notes, these pics are already printed. So theoretically, I could scrap them now while I'm waiting for us to put the new computer station together… Possibilities…
Current Scrap Pages. Hmm… Maybe 10 current pages? It would be awesome to get June 2022 knocked out.
Ice Cream Soda. We meet again old friend. lol. I'd like to make some progress on the bottom chunk. Hopefully seeing a bit of it assembled will give me the motivation to keep making progress.
Labels. We got these awesome resealable jars for baking good and I want to make some cute vinyl labels for them. 🙂