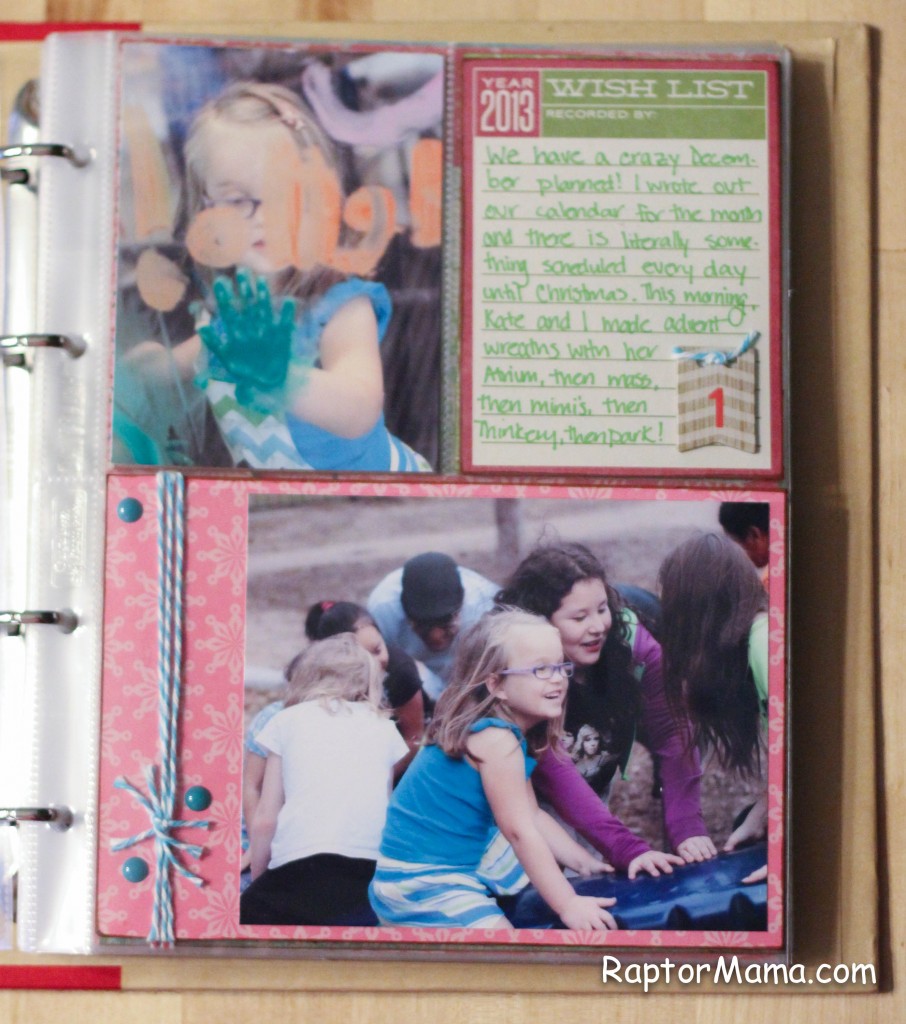 As per usual, I'm running a wee bit (OK, a full year) behind.  Better late than never, right?  Here's part 1 of last year's December Daily.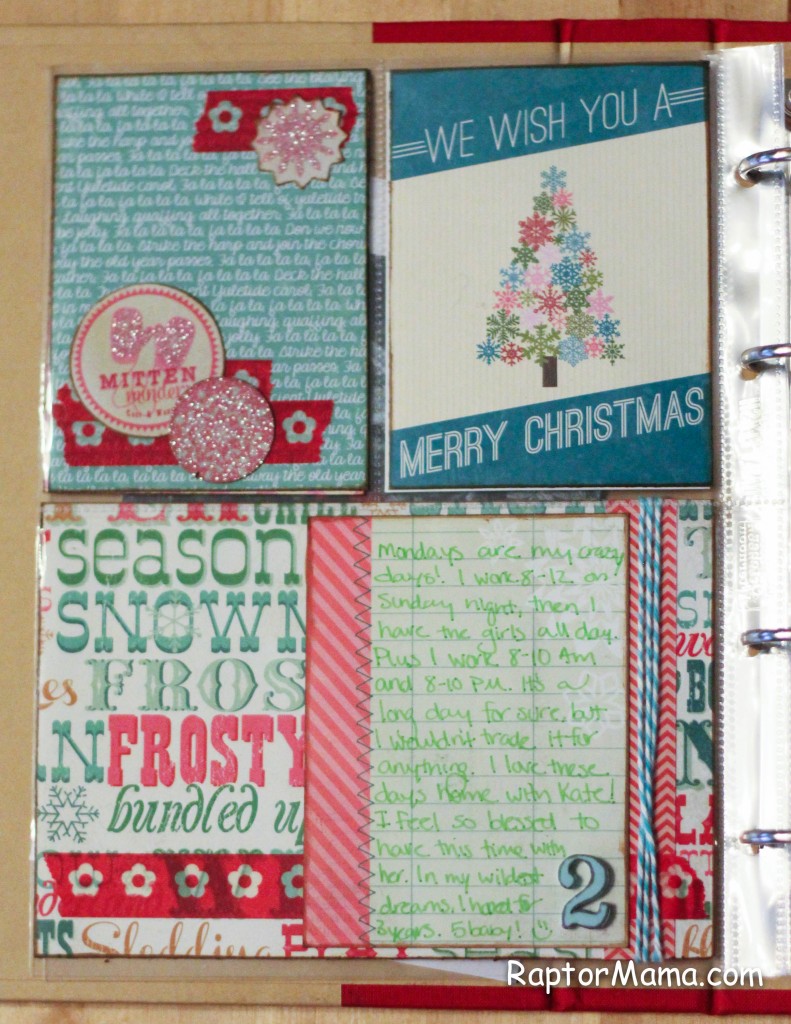 I used the October Afternoon Daily Flash line for the page protectors and I'm having a love/ hate relationship with them.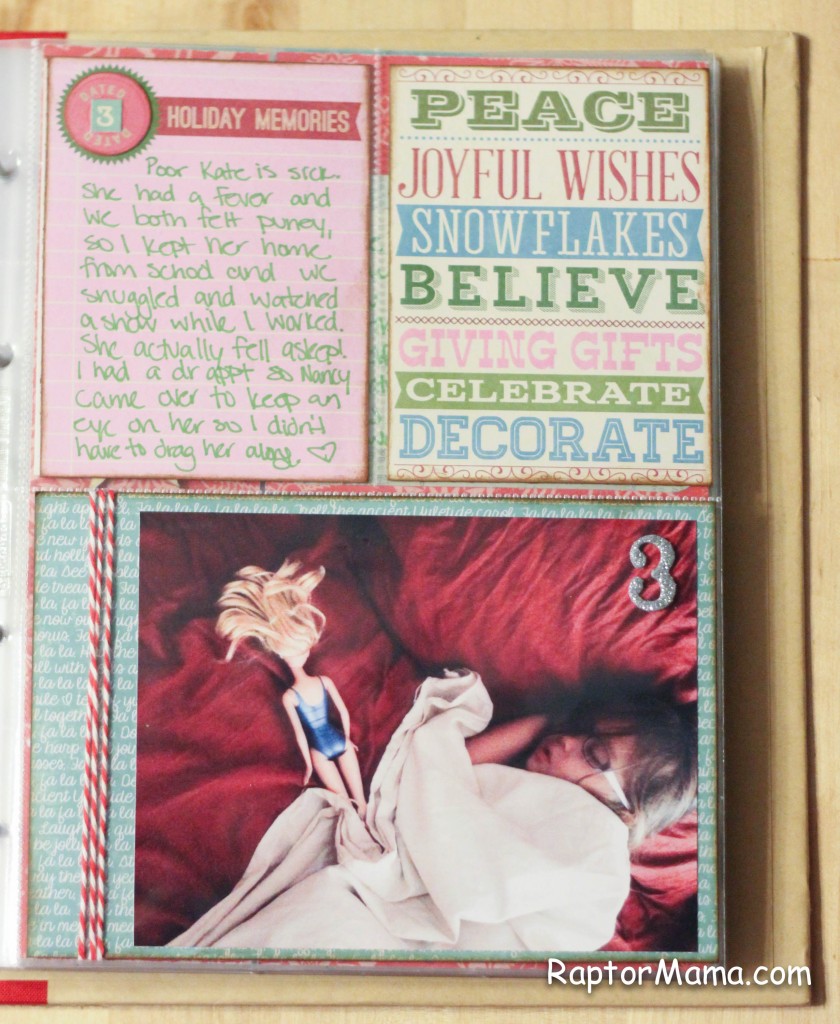 They're good quality, and I like the variety of pockets, but they are far from true to size and, as a result, I've had to mat everything.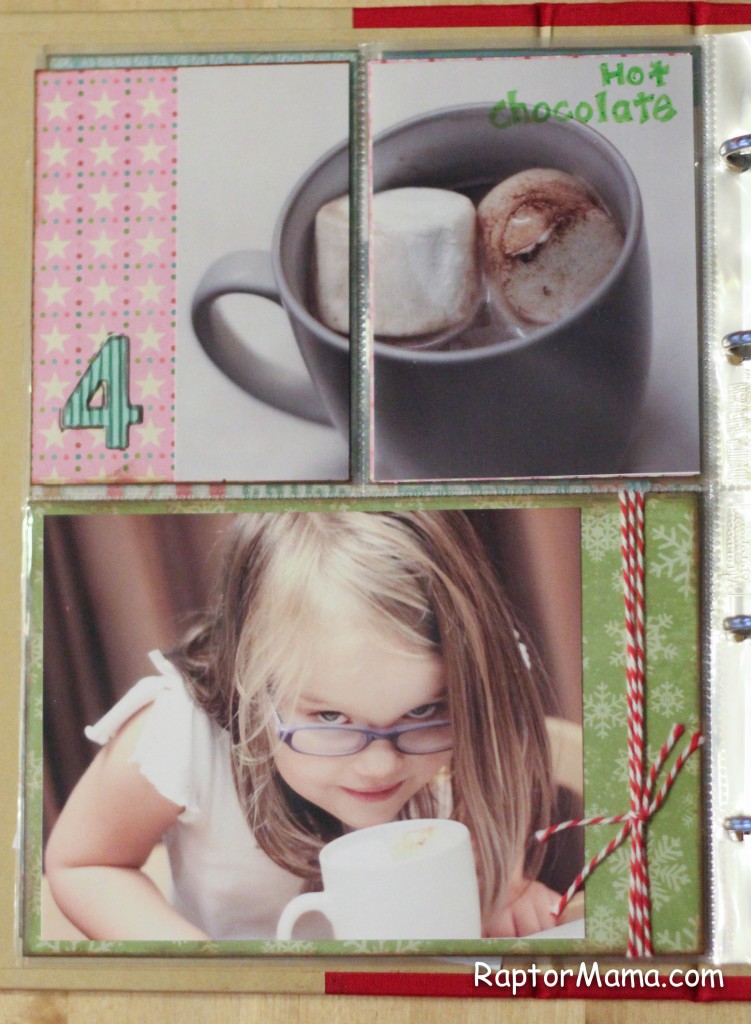 I like the way everything looks matted, but it's adding a lot more time and expense to the project.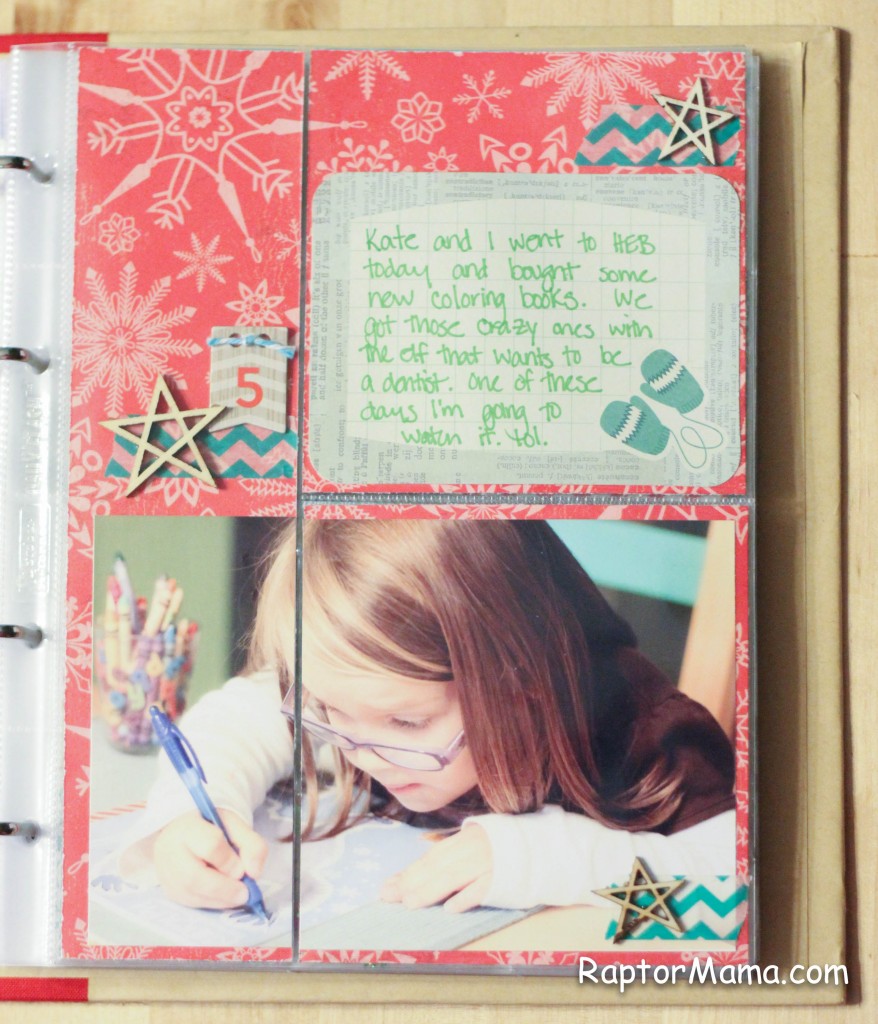 One of the things that I'm loving about the pocket pages though, is that it's forcing me to be more creative about the layouts.  I have to think about the layout of 2 days at a time since they share the same page protector layout.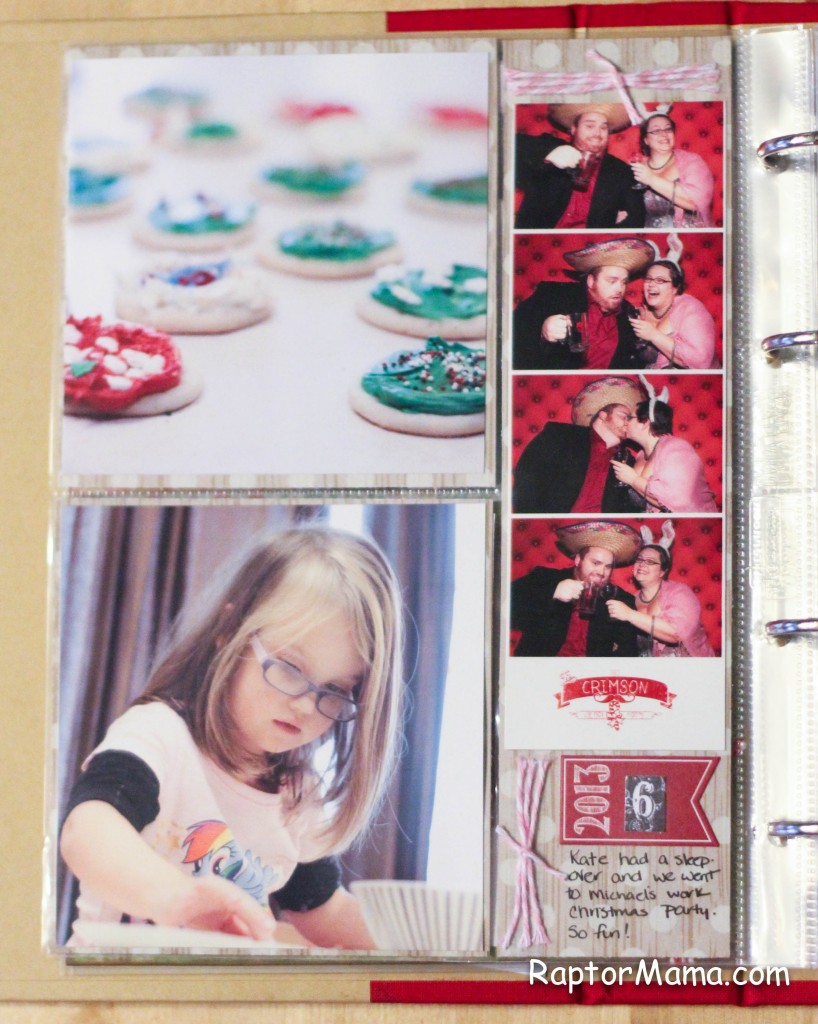 Like here where I wanted to use the photo strip.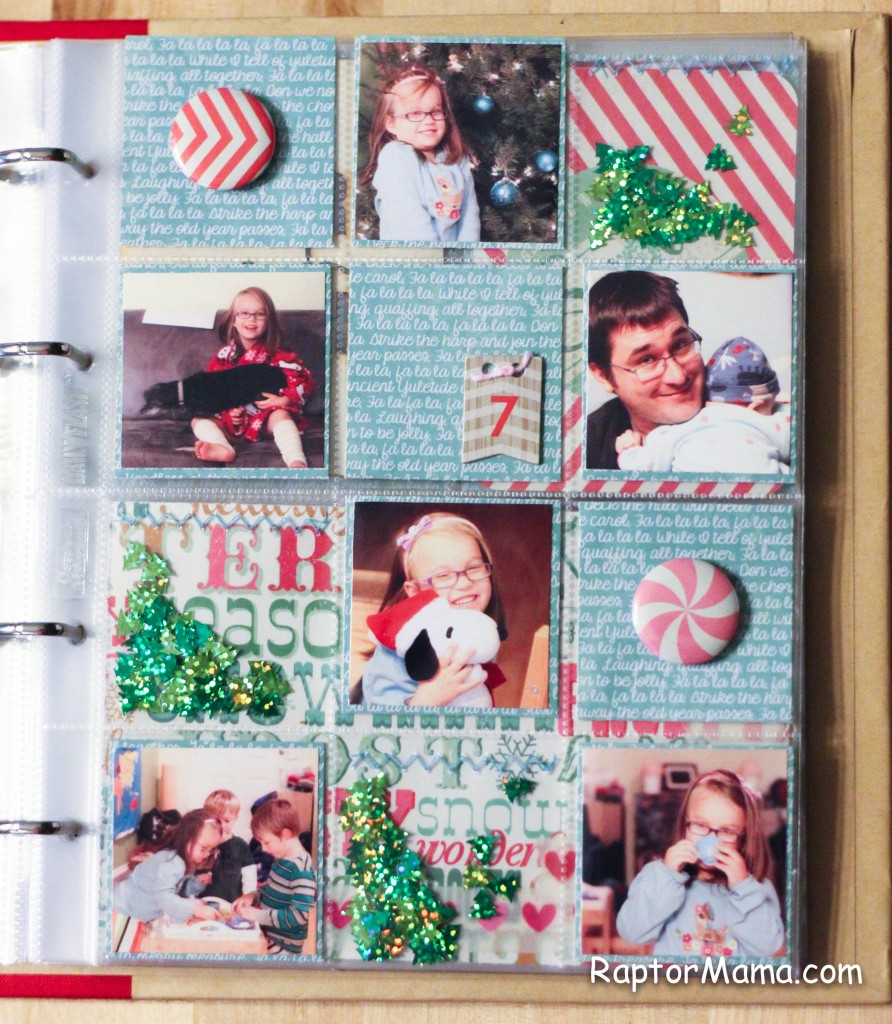 This is one of my favorite layouts!  I love the tiny 2×2 pockets.  I stitched confetti in some of them and I think it turned out super cool.  🙂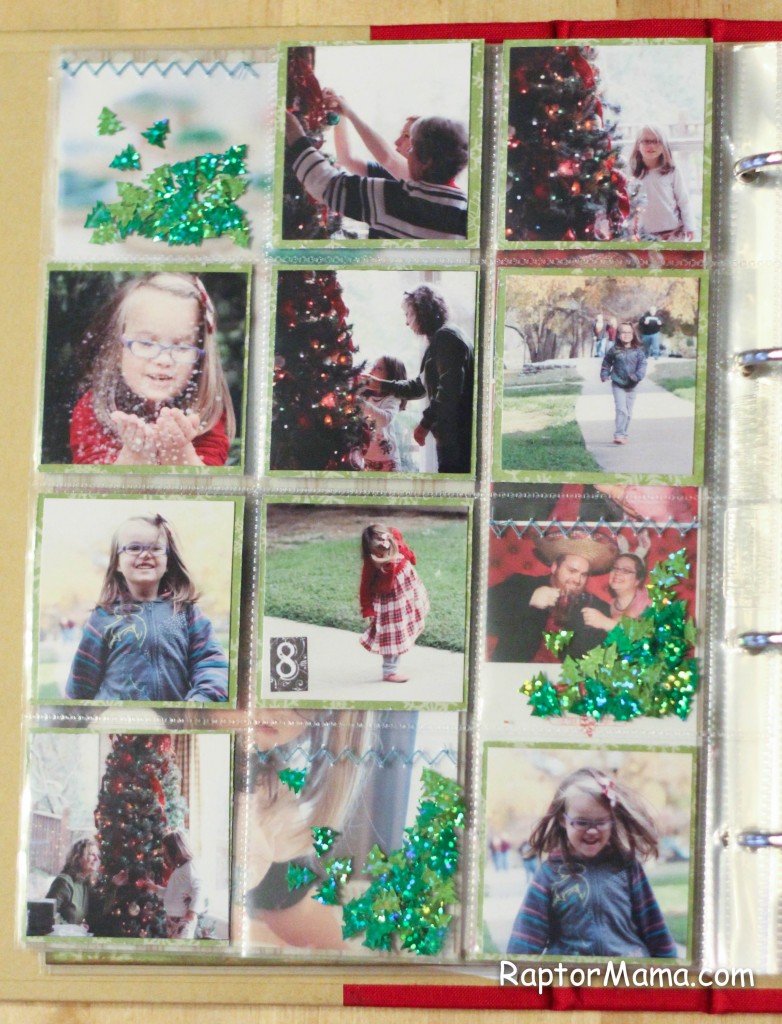 Luckily it worked out that I had lots of pictures to include for both of these days.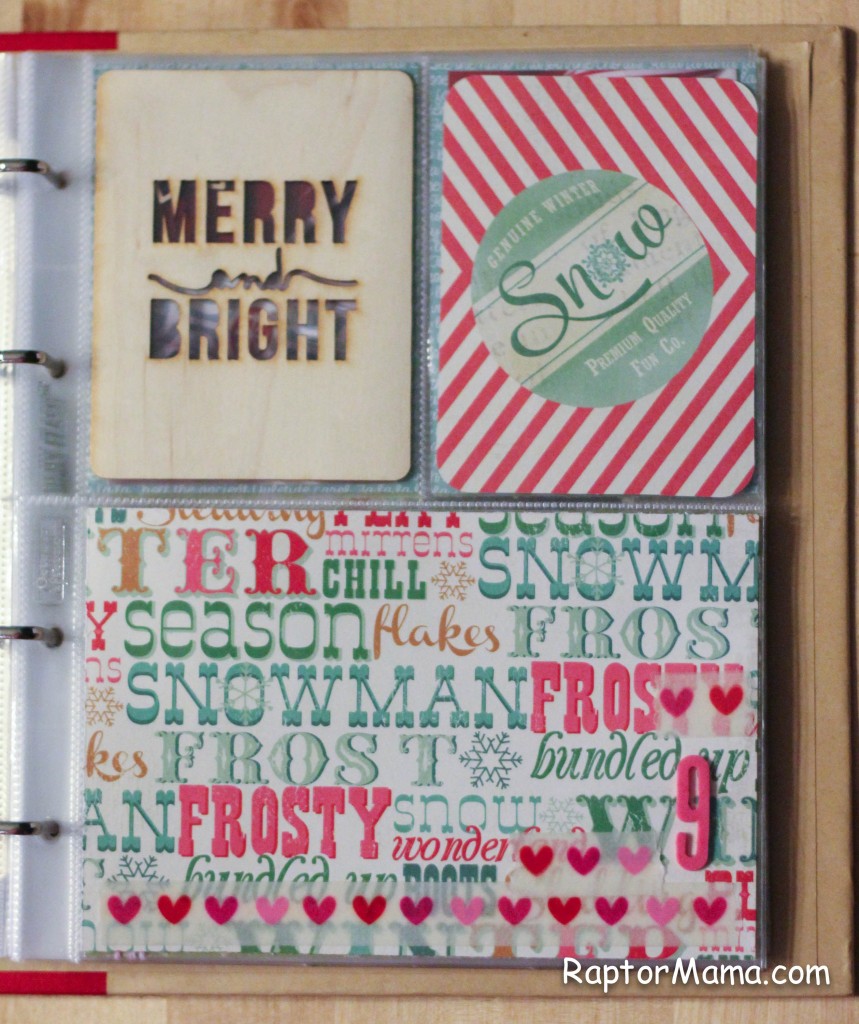 One of the other challenges is that I'm limiting myself to 1 page per day.  In the past, I've just added as many pages as I needed to use all of the photos that I wanted, but it ends up taking a lot longer to assemble so this time I decided no more!  Of course, some days, I had no photos.  I'm trying not to let it bother me.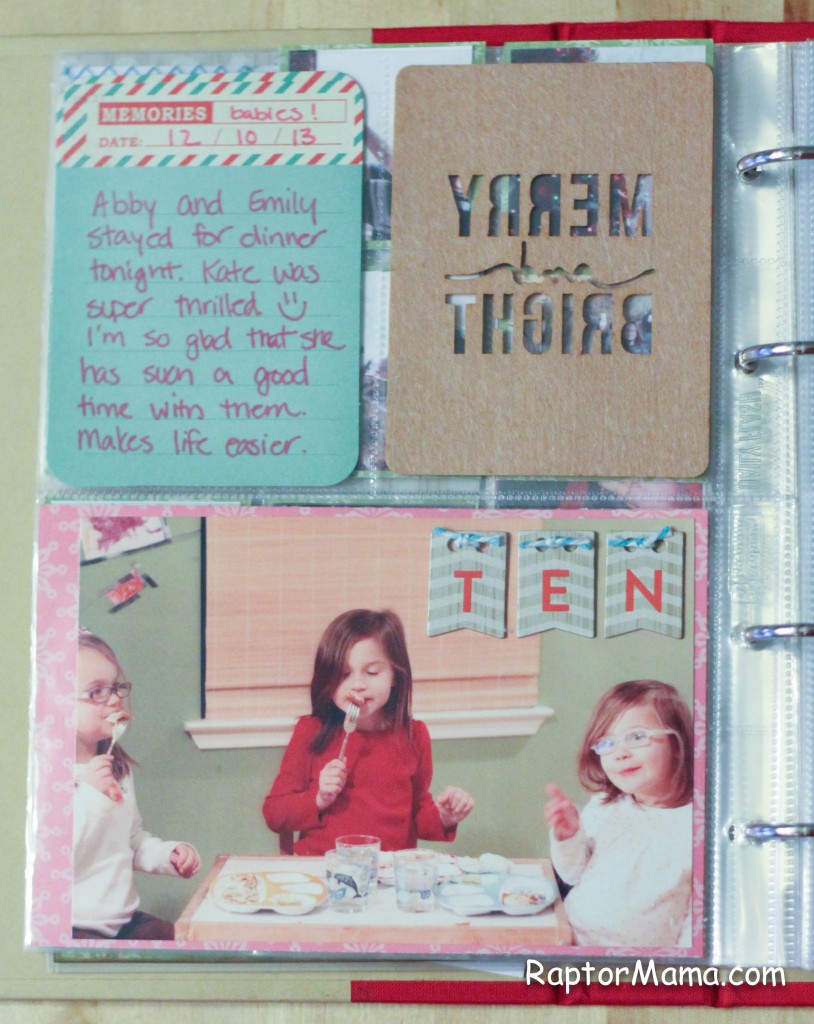 I'm also trying to include some twine on each page.  There have been a few that I've missed, but I like that it's giving some consistency to the book as a whole.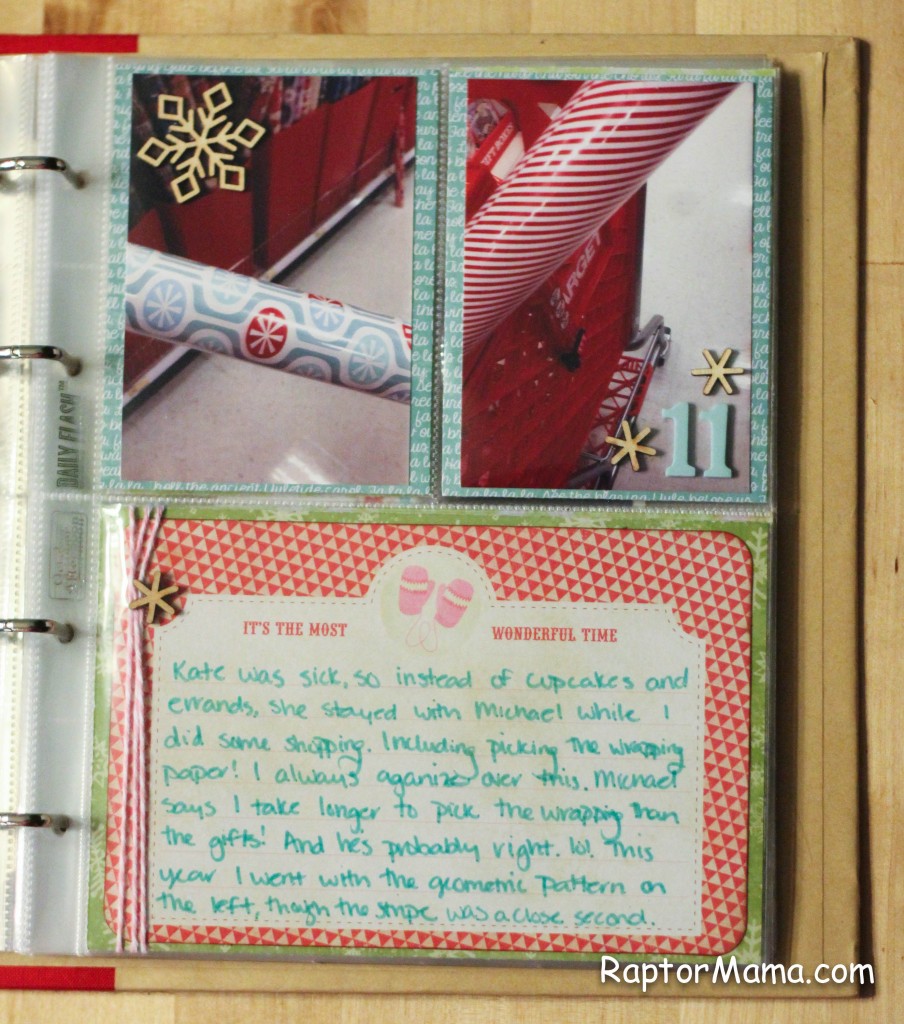 I'm also trying to include more everyday stories and not just focus on Raptor.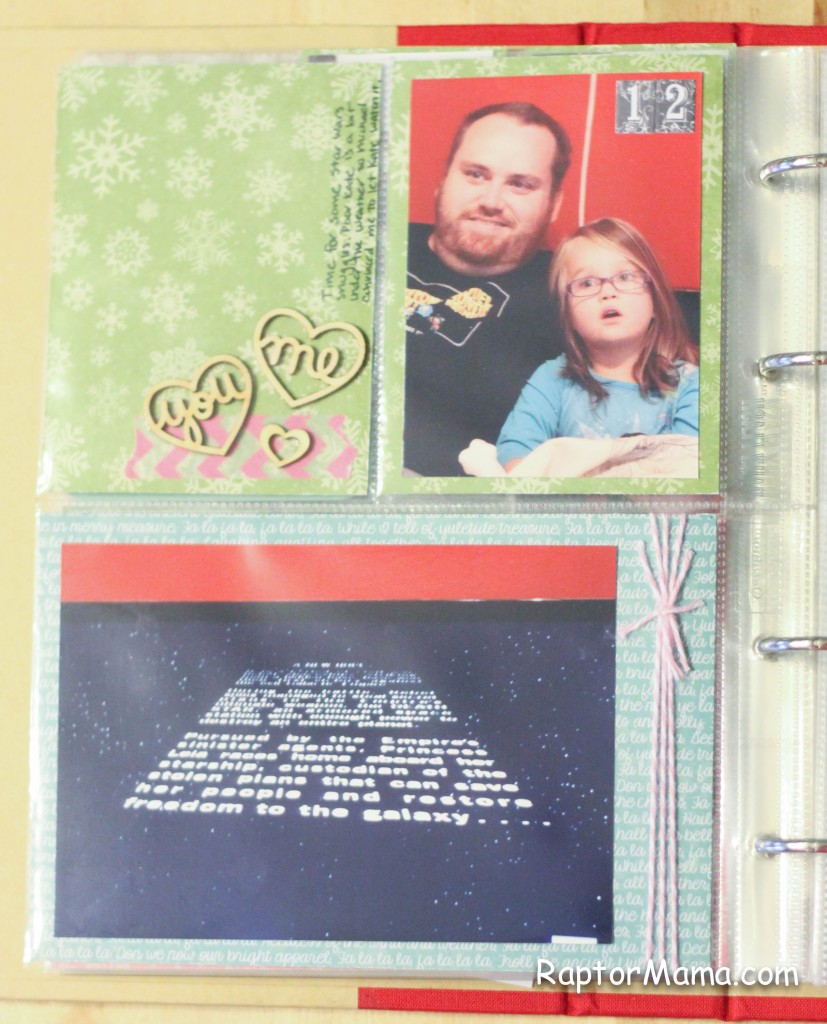 She was a bit under the weather for part of December so we had a bit more TV watching that usual.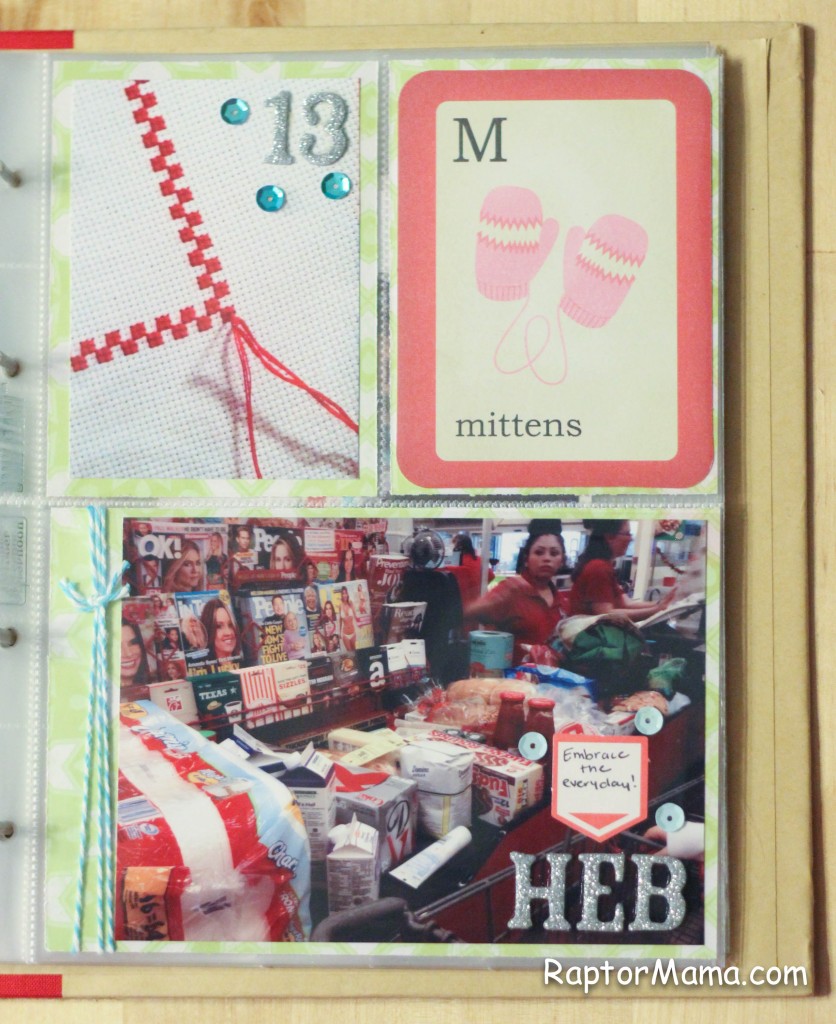 I always think that maybe someday it'll be interesting to see what we buy at HEB?  With that said, I'm making more of an effort to take a pic every day this year.  🙂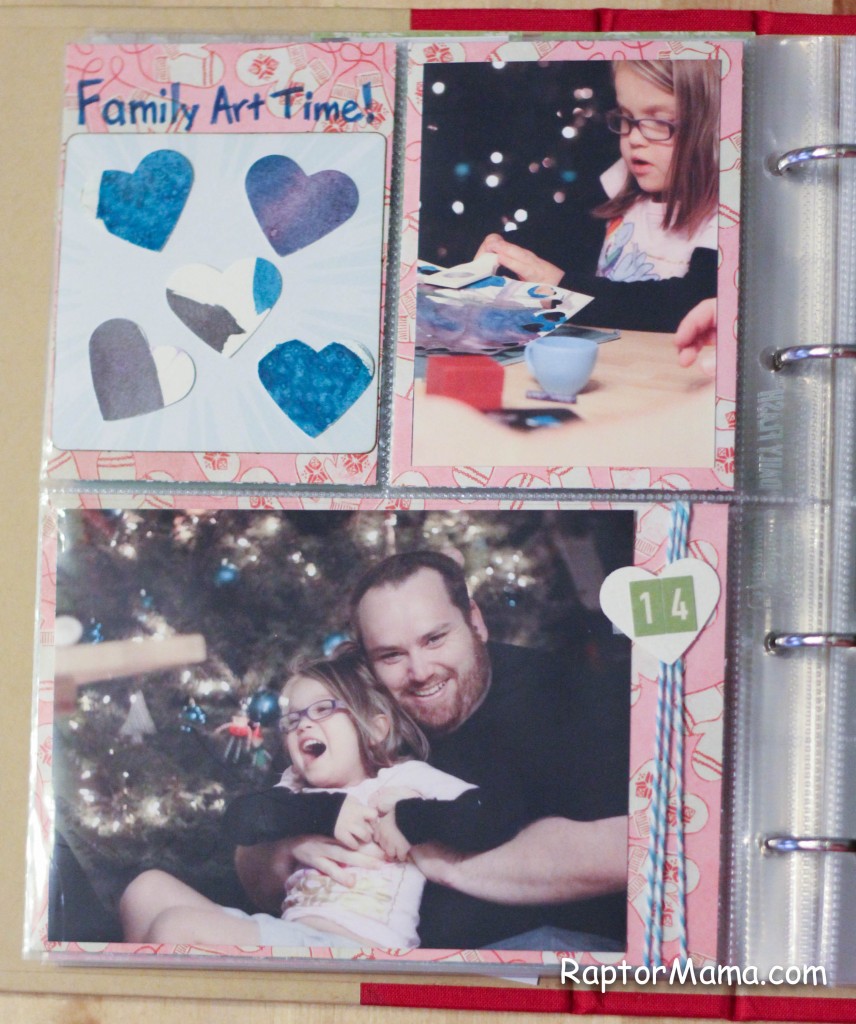 I included some of Kate's art supplies on this page.  🙂  She loves it when I do that.
So, what's the plan for 2013 and 2014 DDs.  Currently, I'm making sure to take a pic every day and write down what we do.  I'm toying with the idea of making this year's DD 4×6.  It will just be one photo each day that I've (potentially) added some text/ embellishment to either in photoshop or with traditional materials.  That seems so boring, but with me working full time this year, there's just not as much to photograph.  If I decide to do more than that, I'm pretty sure it will be using divided page protectors again.
I'm hoping to finish 2013 up in the next week or 2; I hate being so far behind.  I don't anticipate posting (or even working on) any layouts from 2014 until I've finished 2013.