Remember the JOY letters?  And the LOVE letters?  I've been putting them on a shelf in our built-ins and they've been so cute that I decided to make a set for every month! 🙂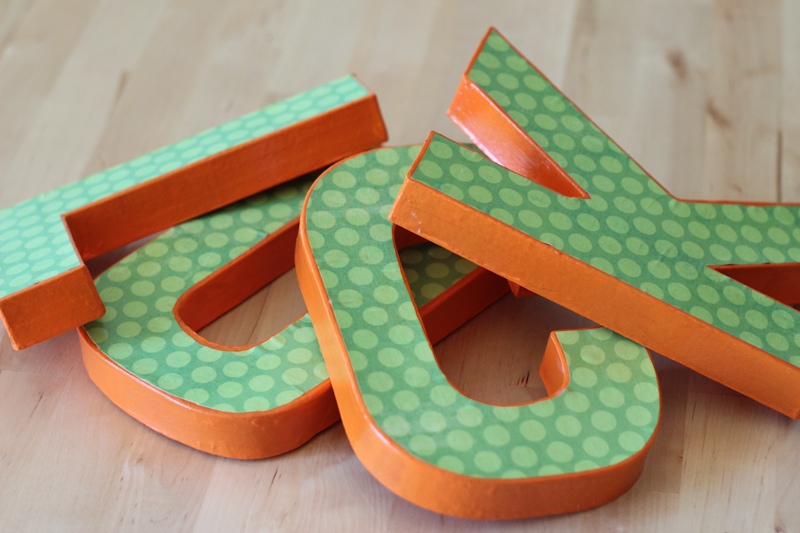 RaptorDad suggested LUCKY for March, but they were out of Ys at Joanne's so I went with LUCK.  I used the Lime Twist line from My Minds Eye.  I love this line.  In fact, I bought it when it was new and used every last scrap.  Imagine how happy I was when I found a huge collection of it at Archivers last week!
I was initially looking for some shamrock paper for this project, but I couldn't find anything that I *loved.* Then I realized  DUH!  I can just use green paper.  RaptorDad suggested orange paint which ended up being perfect.  It made the green pop and it's the colors of the Irish flag!  Perfection.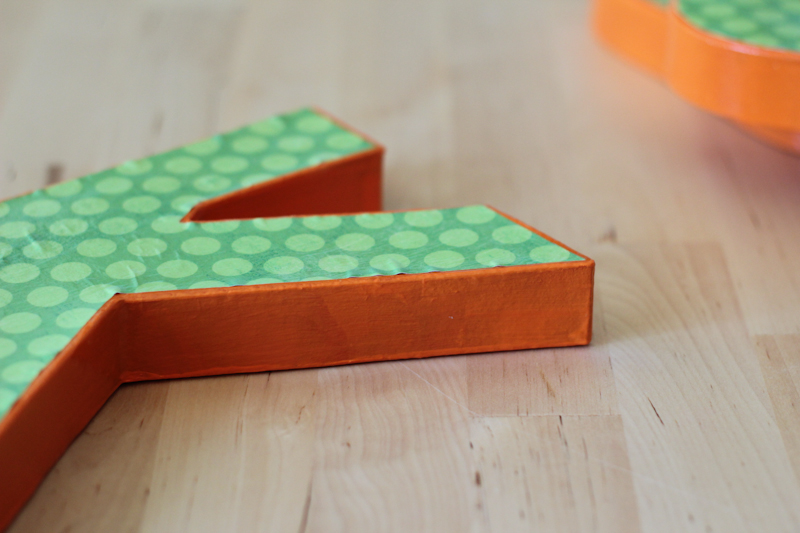 The last time I made these, people asked me what I did about the wrinkles in the paper and I was perplexed because I didn't really have a problem with wrinkles.  Not the case this time.  The collection pack of these papers was quite thin and I think that's why I ended up with wrinkles.  Bottom line, if you want to avoid wrinkles use a thicker weight paper.  I think that a brayer would have helped too, but let's be honest, I only have so much preschool time available to craft and I'm not wasting it looking for/ buying a brayer.  In the end I decided that it looked fine wrinkles and all.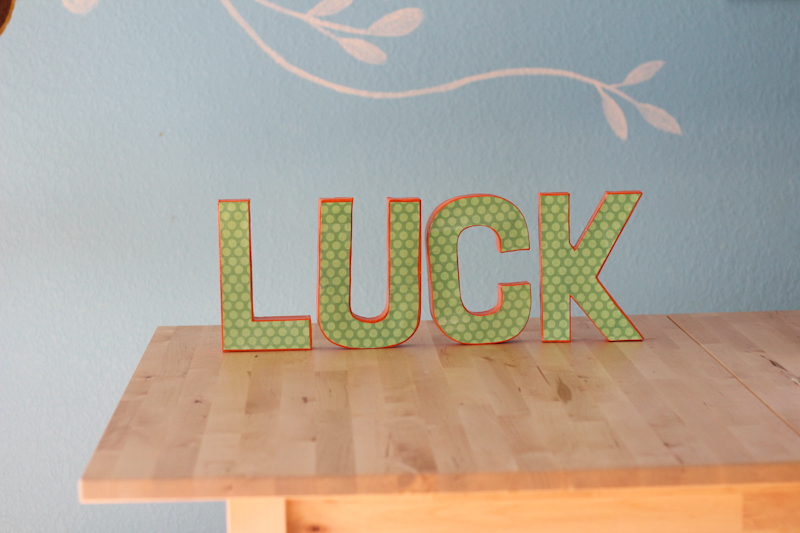 Cute!
Now, for the goals update.  I did pretty good this month!
1.  Finish April and May layouts.  This one is dependent upon me actually getting my pictures back from the printers which would involve me ordering them…  See number 4.  Done!  Barely, but it's done.  I thought it was a lost cause, but Kate had school Thursday and I finished the last 4 layouts just in the nick of time.  🙂
2.  Finish December Daily.  Also done!  I finished this up on Tuesday during preschool.  I've been so productive this week.  🙂
3.  Sort and select phone pics for September, October, November, December and January Project Life.  I like to do the phone pics first and then see where I need a DSLR pic to fill in after.  The majority of my Project Life is phone photos.  This was quite the undertaking, but it's done.  Who hoo!
4.  Order these dang pictures!  Done and done.  Can I just say that I <3 Persnickety Prints?  Because I totally do.  🙂
5.  Design and make Valentine's for Kate.  They were super cute if I do say so myself.
6.  Finish up projects for Kate's Valentine's Day party.  I could always have done more, but I'm pretty happy with what I did do.
7.  Rebuild my blog buffer.  Not sure if I can check this one off or not.  I was hoping to have a 2 week buffer and instead I have a 2 entry buffer.  Meh, it's better than nothing.  I'll keep this one on for next month though.
March Goals:
1.  Scrapbook June and July.  Eeeppp!  That's a lot of pages.
2.  Organize/edit/select DSLR photos and phone photos from RaptotDad's phone for Project Life for October, November, and December.
3.  Organize/edit/select photos for Kate's scrapbook for October, November, December.
4.  Meal plan for March.