I had grand plans for an awesome post after my week off, but, well… if y'all have been reading for very long you know that I'm a major procrastinator.  lol.  It's currently 2 AM and I just finished addressing my Christmas cards.  Except that I'm missing some addressees and I ran out of stamps.  ::sigh::  One day I'll have it all together, right?  RIGHT?!?  All that to say that I *don't* have an awesome craft ready to blog about at the moment.  What I do have is some awesome pictures.
We were at my brother-in-law's house this weekend and Kate's cousins were playing in a giant pile of leaves. They had a blast raking them into a pile and jumping into them.  Here's my beautiful niece.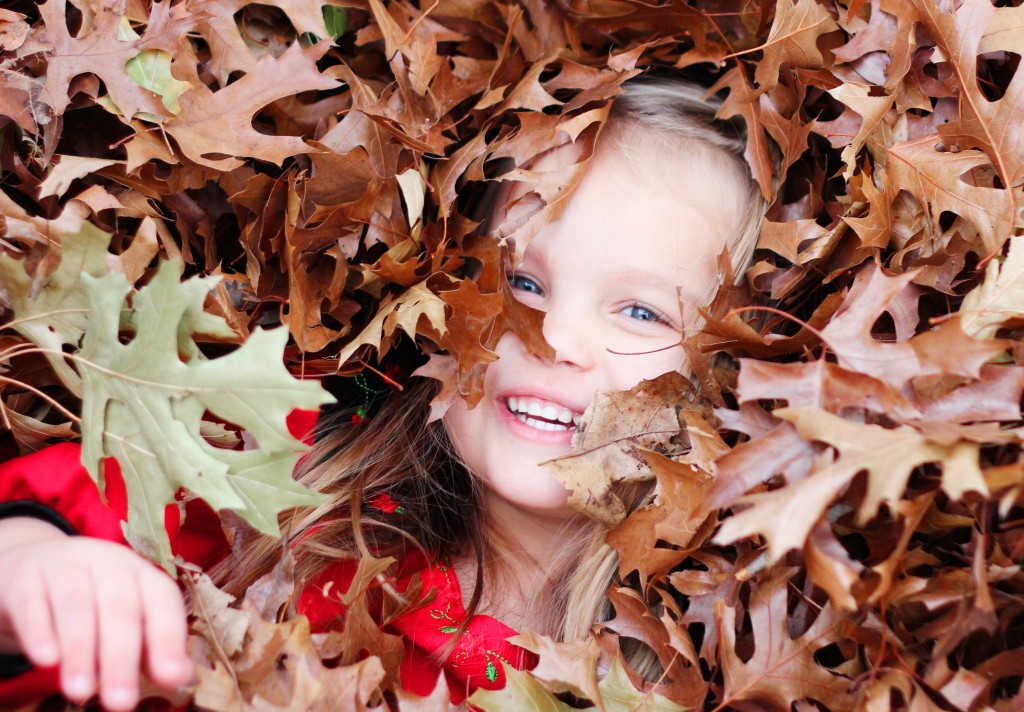 And here's my gorgeous daughter.  I had to bribe Kate with chocolate to cooperate (she might just be the most photographed child in existence) but I'm super happy with how these turned out.  I used my 50mm 1.8 lens (best. lens. ever.) and the settings were as follows: shutter- 1/250; f stop- 2.2; ISO- 400.  I sometimes shoot in full manual mode, but more often that not (on this occasion for example) I shoot in Apature Priority mode.
I cropped these in Lightroom (which I am totally in love with) and then ran an action in Photoshop.  I don't often pull pics into Photoshop, but I wanted to punch up the color on these a bit since the leaves were kind of drab straight out of camera. I even used the pic of Kate as our Christmas card!
In other news, I'm now caught up through December 6th on December Daily.  🙂  Hopefully I'll have some of that to share on Wednesday.