I am so loving Project Life!  It has evolved a bit in the 2 weeks I've been working on it.  I'm still doing a picture a day, but I've decided to take all of the pictures with the hipstomatic app on my iPhone.  This way I don't have a lot of pressure to carry the hubby's DSLR around everywhere trying to make sure that I get a perfect picture every day.  Of course, in reality the camera does go most places with me, but the phones go everywhere.  It makes it much easier to snap a quick photo of everyday stuff.  I also decided that Kate does not need another scrapbook!  She has a several *very* full scrapbooks of her own, plus a blog.  Project Life is becoming more about *my* story.  Obviously Kate still makes regular appearances.  🙂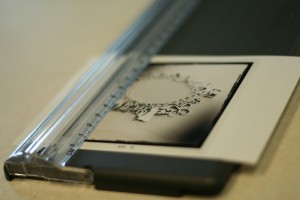 The hipstomatic prints are 4X4, but since we print them out at home they come out 4X6.  The first step is to trim them down to 4X4.  Since they are 4X4 and the kit is designed for 4×6 I back them with patterned paper.  This also gives me the opportunity to squeeze in some more pictures.
Here I have 3 pictures in the space for 2.  I did have to cut one in half but, as we've discussed before, that doesn't bother me.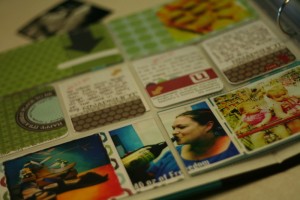 Here's another one where I cut a picture in half.  It was at about this point that Michael suggested I change the name to Project Lush.  What can I say, I enjoy an adult beverage now and then.  🙂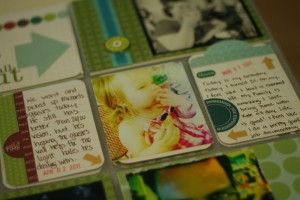 Another option to include more photos is to put them in the extra journaling pockets.  Each week has 8 spots for journaling cards but seeing as how there are only 7 days in the week you have an extra one.  The kit includes little accent cards to put in them, but I decided to put a picture in this one instead.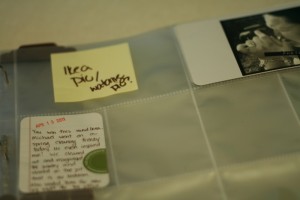 Since we're Michael's printing them out at home, I try not to harass him too much about it.  What I do instead is make sure I've taken the picture for the day and then I put a sticky note where it will go once it's printed.
I try to go ahead and get the journaling done as I go too.  If I was doing 4X6 prints, I could then just slip them in whenever I finally had them printed.  I spend a bit more time mounting them on patterned paper since I'm using 4X4 prints, but it still doesn't take long.  Loving this whole concept!