You guys.  I have fallen down the planner rabbit hole.  It started off innocently enough.  I was having a hard time keeping track of all of our appointments and the calendar on my phone wasn't really working for me.  So on a whim I thought I'd check out the Erin Condren planners.  Um, wow.  I <3 them all!  So after thinking about it for about 2 seconds, I decided that I had to have one.  Especially because the timing was perfect since she had just released her new ones which started today.  🙂  No lie, they're pricey, but the quality seems very high.  While I was going crazy waiting I started watching youtube planner videos.  If you haven't seen them, these people use tons of stickers to basically cover every blank space in the planner using kits from Etsy.  My response went something like this:
 These people are crazy!  Who has that much time to spend on a planner every week.  Not to mention it must be so expensive!  Plus there's almost no space to write down your actual appointments.
Well, they are awfully cute and I do have a lot of washi tape.  Maybe I'll just add in a bit of tape across the bottom.  But no need for stickers.
Maybe I could use some of my stamps instead of stickers?
Must buy all the stickers!  And follow all of these people on instagram!
So…  My stickers should be arriving soon.  lol.  I'm not going to be buying a kit every week (unless some etsy shop wants to sponsor me!  lol.)  but I am going to be adding in a few stickers here and there for fun.  Mainly to help me track my water intake as that's one of my big goals for July.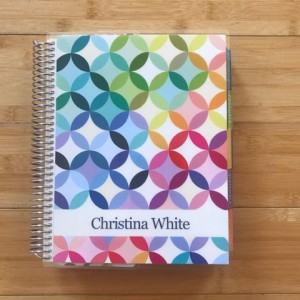 You get to pick your cover from a bunch of gorgeous options and then you can personalize it with your name.  I added a picture to the back of mine too!  Maybe next time I'll remember to take a pic of it so you guys can see.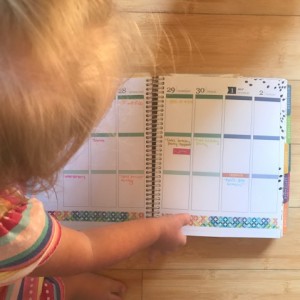 I was having a little bit of hard time getting a pic as Mia was very interested in it.  lol.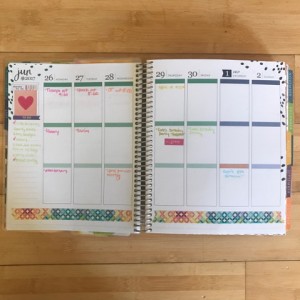 I've decided to use the top box for appointments, the middle box for day time stuff that's not an appointment, and the bottom box for important dates and/or stuff that happens after Michael is home from work.  I'm toying with the idea of making the top box stuff during the school day, the middle box after school stuff, and the bottom box important dates/ post bedtime stuff, but that won't happen until after school starts back up.  I'm also toying with the idea of making the bottom box a daily to do list.  I'll jut have to see what makes more sense as I'm using it.
Bottom line, the planner is super fun!  I'm glad I finally bit the bullet and ordered it.  🙂