I think it's fair to say that I didn't meet my goal of blogging more.  lol.  Nevertheless, I did get some thing done.  Let's take a look, shall we?
 Finish December Daily.  I didn't finish, but I made some serious progress.  I'm currently working on pages 21 and 22.  (Since they're front to back I always do 2 pages at the same time.)  So close!
Finish cross stitching the base of the design.  Back stitching can be for February.  Well, I almost got this done.  I figure another 2 or 3 days and I will be finished with the base.  Which is amazing because I honestly thought there was no way I would finish this.
Ball up yarn and finalize design for blanket.  Haven't balled up the yarn yet, but I have finalized the design.  Time to dig out the needles.
Scrapbooking: Knock out December 2015 and make a dent on December 2016.  I got 3 layouts done for December 2016, but none for 2015.  Whoops.  What I did do was August 2015!  It's totally done.  And, I went ahead and printed the pics for September 2015.
8 Project Life layouts.  Well, I got 2 done?  lol.  I'm just falling further and firther behind with that project.
2 trash bags from scrap room.  Done!
2 trash bags from bedroom.  Done!
Pack away Christmas stuff.  Done!
Design and create Valentine's Day shirts for the kiddos.  Still need to do this.  Especially now that it's actually February.
Design and cut out designs for our snazzy new water bottles.  Still need to do this.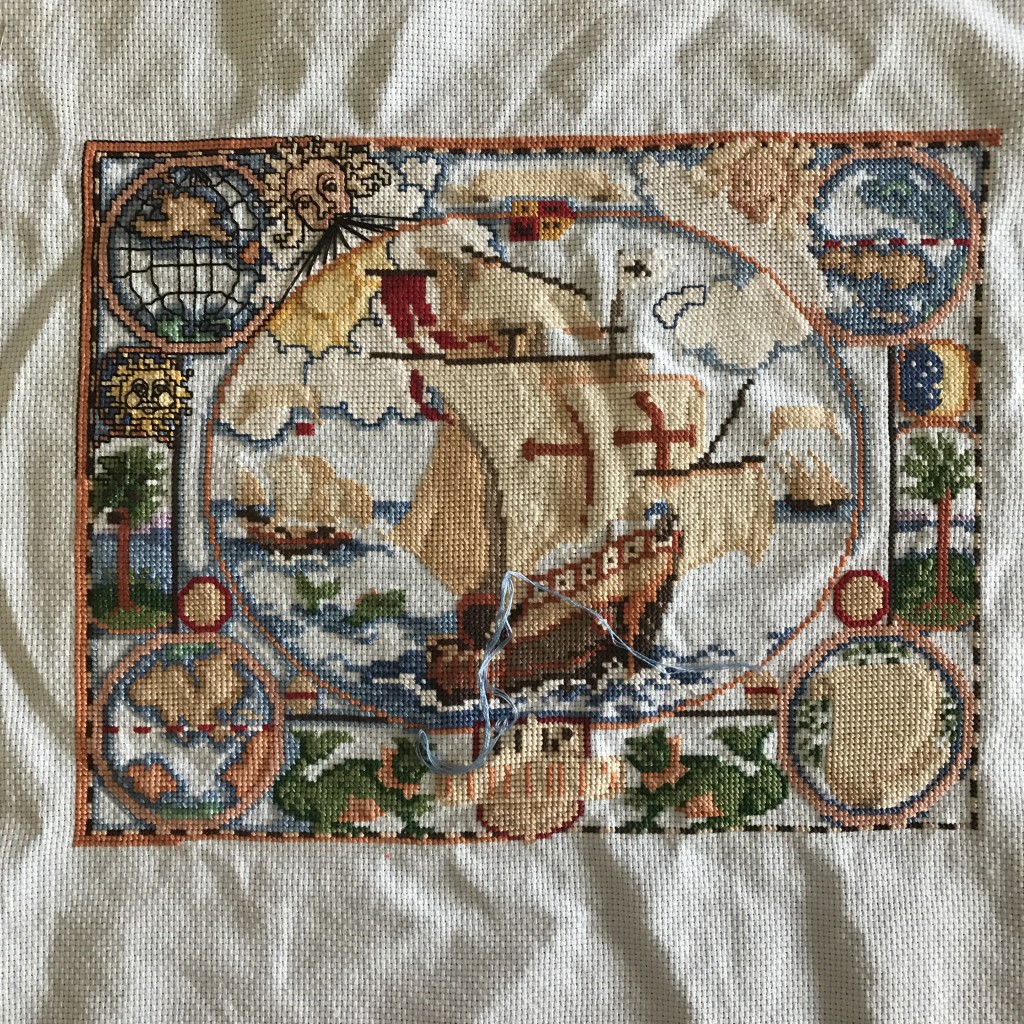 So what happened?  I'm usually way more productive in January.  Well, I'll tell you.  Girl Scout cookies happened.  Raptor really wants to go to camp this year and if she sells 400 boxes than she gets $60 to put towards camp.  I foolishly told her this and that if she managed to sell the 400 boxes that I would cover the difference.  She is working her little butt off, but damn.  400 boxes is a lot of cookies!  Especially since we were out of town during the first week of cookie booths.  Still, I think the end is in sight.  She's sold 280 boxes so far and she has 120 to go.  Fingers crossed!
I'm also taking a more active role in planning things for our Girl Scout meetings, at least during cookie season.  It's been loads of fun.  🙂  I'm really enjoying being more involved.  It does leave less time for crafty pursuits though.  That said, shall I set some February goals?
 Finish cross stitch!  Yikes.  This is a project I've been working on for years.  I started when I was pregnant with the twins!  I'm not sure what I'll start next.  Maybe I'll actually do a cross stitch for my house.  lol.  This was also the last big unfinished project that I promised myself I would finish before starting on my quilt!
Finish December Daily.  Only 3 layouts to go!
Scrapbooking.  OK.  If I don't finish at least one month a month then I just get further and further behind.  ::sigh::  So I really want to finish September 2015, print pics for August 2015, and do at least 10 current layouts.  I should be aiming for finishing 2 months a month, but lets be real, ain't nobody got time for that!
Project Life:  Since I'm focusing on scrapping this month, I'm just going to try to not get further behind with Project Life. That means 4 layouts.  Unclear if those will be September 2016, January 2017, or a combo of both.  I just know that I need to play catch up in a big way!
Ball up yarn and get started with the knitting.  I'd like to get the bottom border (20 rows) done.
Set up new planner and start using it.  Right now I have a million scraps of paper everywhere.  I need to get more organized.
Sell all the cookies.  I think I can, I think I can, I think I can.
Prep materials for February Girl Scout meetings.
Plan an awesome Spring Break.
Make Valentine's Day shirts.