I'm blogging from my phone today (our iMac got moved for a Christmas party and our house isn't quite back to normal yet) but I just had to share this. I swear, it's the easiest, most satisfying, not to mention warmest, craft project I've ever done.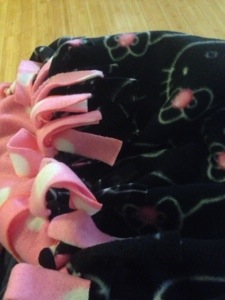 I know what you're thinking, but hear me out. Yes, a trained monkey could make one of these blankets, but they're so warm and snuggly! And I made 2 of them in just a few hours.
The first one was from a kit that RaptorDad liked. I didn't find a kit that I liked, so I just bought some fleece by the yard. The kit was easier since it already had all of the cut lines marked, but it really didn't take that long to measure and draw all of the lines on the second blanket. Plus I got to pick my pattern *and* I made it a bit longer- 2 yards. Perfection.
Does anyone actually need directions? You just cut a bunch of stripes and then tie them together. I tied about every tenth set while I was cutting to help me keep them together. Mine were 5 inches by 1 inch. Go forth. By fleece (use your coupon!). Cut, tie, snuggle.