Remember the rice that Kate's been playing with for a while?  Well, I'm she's starting to get bored with it so we decided to make rainbow rice!  By the way, like most things on the blog this was not an original idea.  🙂
First, grab your materials: rice, ziplock bags, food coloring and rubbing alcohol.  Put rice in the bags, add food coloring and alcohol.
Let the kids smoosh the rice around in the bags.
The girls loved this part so much that we ended up making 6 colors instead of 3.  Well, that and I love doing things in rainbow order.  🙂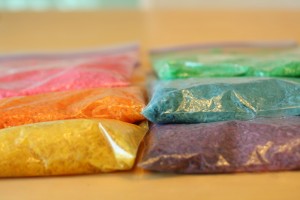 Seriously, it's that easy.  I think we might dye pasta next to make necklaces.  I saved the bags.
It was super awesome looking when all of the colors were separate, but it looks quite nice now too that all of the colors are mixed up.  It's like confetti.  I'll have to take another pic of it and add it.  I totally recommend this.  Super easy and super fun.  I'm not going to lie, playing with the rice is super messy though.