We decided to meet some friends downtown today to go to the Children's Museum.  The plan was to meet up at 10:00 when they opened and then get lunch after letting the kids play for a bit.  What's that you say?  They don't open until noon on Sunday?  Curses!  And of course we've already parked in the garage downtown and have to hang around until the museum opens to have our parking validated.  Le sigh.  For once, I was glad we were running late.  We headed over to a coffee shop to grab a snack.
As we were walking to the coffee shop, I noticed some more cows.  Have I mentioned the cows?  They are all over Austin right now.  There are something like 47 of them.  So far, we've stumbled across three of them and taken pictures.  It's like a sickness I tell you.  If I see one, I must take a picture of Kate with it.  Luckily she's a pretty good sport.
After wasting as much time as possible in the coffee shop, we still had 45 minutes before the museum was set to open.  Luckily there were a lot more cows!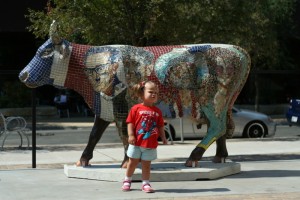 This one was in full sun.  When the high is 109, full sun is not your friend.
Luckily this cow was in the shade.  And since we're in Austin, there was live music.  🙂
I think this cow may have been their favorite.  They really liked the grass.
Moooo.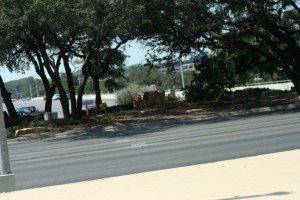 Michael put his foot down here and said that there was no way we were crossing 1st St to take a picture with a cow.  Fair enough.  I'm counting it anyway.
All in all, we added 9 new cows!  I actually think Kate had more fun walking around finding cows than she did at the museum.  To be fair, she and I come to the museum a few times a month and we rarely go hunting for cows.  🙂