It's Kate's last week of school!!!  I can't wait for summer.  🙂  She's not as enthused which is how I got roped into creating this whole Camp Half-Blood thing.  I can't lie though, I have been having a blast coming up with the plans.  🙂
Basically, my plans boil down to:
 Location: Camp Half-Blood
God of the Week: Dionysus
Field Trip: Zilker Science and Nature Center
Craft: Lanyard lacing
Food: BBQ and s'mores (and wine for mama!)
Our first week is going to be at Camp Half-Blood itself, so we'll be doing some "campy" things.  Since we live on the surface of the sun in Texas, I wanted to do this week early in the summer so we could still go outside.  Also, it made the most sense as an intro week since the camp is their home base.  Our god of the week is Dionysus since, in the books at least, he's been banished to the camp and is being forced to be the camp director.  I didn't do a ton with him, but I did include a coloring sheet with some fun facts about him and our constellation of the week is the crown that he placed in the skies after he got married.
I figured that the nature center totally went along with the camp thing, so we're going to go on a hike.  They also have done "dino bones" buried in the sand pit that I might make out to be monsters.  It's also one of the locations for this cool outdoor adventure thing I found that I'll try to blog more about later.  Lanyard lacing and s'mores just screamed summer camp to me.  Kate apparently tried the lacing thing at day camp last year and was unsuccessful, but I think she's old enough now to love it.  If not, I'm going to play with it!  lol.
I'm not uploading the files for the book because about 1/2 of it is just drag and drop worksheets I found for free on the internet.  I talked a lot with Kate about what kinds of things she wanted included, and I think there's a good mix of fun stuff and more academic stuff.  There's a coloring sheet, a maze, a scramble, several writing prompts, some math problems, a logic puzzle, some information about the constellation of the week, mad libs, a word search and more.  Here are a few pics of some of the pages that I created.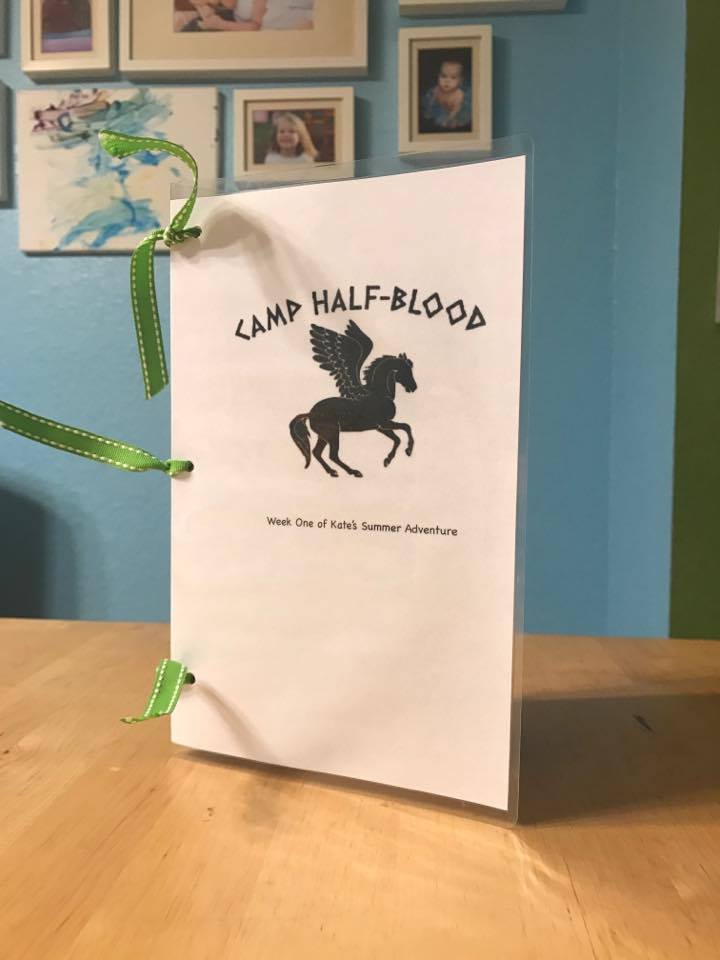 Here's the cover.  I laminated it because I'm a huge dork.  🙂
I can't wait to start!  Maybe I'll even take pictures of our adventures and post a recap next Friday.  I mean, I wouldn't hold your breath, but anything is possible, right?  😉